"What does peace mean to you?" This was the first question my classmates and I were asked as we entered the Gernika Peace Museum on Saturday morning. What may appear as a seemingly easy question to answer actually turned out to be extremely difficult to put into words. Slowly but surely, my classmates began naming activities that brought them a sense of peace such as reading, sleeping, running or listening to music. This simple yet thought provoking question led me to dig deeper and discover what I consider to be peaceful. I soon came to the shocking realization that most of the things that I consider peaceful are non-existent here in San Sebastian, and I wouldn't have it any other way.
Two Saturdays ago I left the country for the very first time to experience what for many would be a once in a life time opportunity. Traveling to a foreign country essentially meant that I would be leaving my family, my friends, and everything that I have ever known behind. As any young adult would be, I was both extremely excited but also anxious for what the future had in store for me. I was consumed with nerves about not knowing any of the students on the trip, not knowing more than a handful of Spanish words, living in an unfamiliar city, and the possibility of not liking any of the food. However, with the exception of not liking the food becoming reality, I have found that all of my preconceived notions have been proven to be false. As I am now taking a moment to reflect on my last two weeks here in San Sebastian, I am discovering each day that my old idea of "peace" was far from correct, and that I actually have found peace in many of the very same things that I was so worried about.
My time in San Sebastian thus far has allowed me to develop close friendships with sixteen of my classmates as well as friendships with students from Australia, Germany, and the Netherlands. I truly believe that these newfound friendships are ones that I never would have had the opportunity to encounter if I had not stepped outside of my comfort zone. I do not hesitate when saying that I am certain many of these friendships will far outlast the duration of this trip. I have found peace in being away from the people that I know best because I have come to discover that there is even more excitement in meeting new people.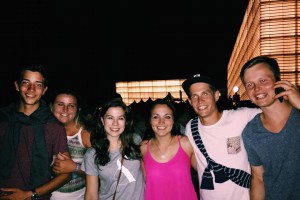 If asked prior to this trip what activity I found the most peace in, I would have responded with sleeping. Being lazy is one of my most cherished activities in the summertime, but little did I know that all hints of sleep and relaxation would disappear when coming on this trip. With that being said, I speak for both myself and my classmates when I say that we hardly get any sleep here in San Sebastian, and we love it. Most days, I struggle to get out of bed after getting a "full nights sleep" of about five hours. My days are filled with Spanish class, excursions in and around San Sebastian, discovering the Basque culture, going to the beach on our free days, and exploring the city into all hours of the night. After experiencing all of my sleepless days and nights, I think it is safe to say that I no longer consider sleep as one of my many comforts; I have found a new sense of peace in adventure and the unknown. This trip has forced me to accept that I will not always know where I am going, what time I will be arriving or if I will even be able to communicate with anyone using my limited Spanish and their limited English. There is something to say about a city such as San Sebastian which can change someone's idea of peace and their whole perspective on life. I have come to realize that it is healthy to be outside of my comfort zone and I have learned to find peace in the thrill of the unknown. Experiencing San Sebastian has opened my eyes immensely to the type of person I hope to become. I believe that this trip has helped me find peace in new experiences, new friends, and new places. If given the opportunity, I encourage everyone to visit another country where they will embrace a different culture, experience new things (even if it does seem scary), and take the time to rediscover themselves.