Back at home, time flies by. Doing the same thing everyday is boring, not memorable. Here in  Spain, every day is different and worth remembering- at least for now, while we're still fresh to the lifestyle. Most days have had planned trips for us so far, so our free time on those days were more limited, but today, Friday of our first week is the first time the class has no scheduled excursions.
I spent the past couple of days thinking, "How do I keep this day from flying by? What can I do that's new?" Luckily I already had a good idea of what I wanted, and it was music. The Jazzaldia Festival was being hosted this week on Zurriola beach and tonight one of my favorite jazz-funk bands were performing, Snarky Puppy. They were scheduled to play a free show at midnight, and it's something I've been looking forward to for weeks.
But that still left me 12 hours- from getting out of class until then- to kill. Luckily I have my guitarra and am in city where busking is commonplace.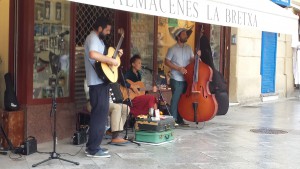 Busking is great fun for two reasons, you get to perform for people and you get tipped for performing. A lot of the time the people passing don't give you much attention, but there's the occasional mother who'll let her child stare, or middle aged couple who wants to hear to the end of this Beatles song, and it feels good to play for them because you know they want to hear it. Also they tend to be the ones who tip.
The first time I got paid today was during my practicing of Norwegian Wood, by the Beatles. I say practicing instead of performing because it was exactly that, I kept my case closed because I didn't want to imply I was looking for money as I practiced my music. I was a little embarrassed to be playing out here because with an open case, that's exactly what I'd be doing. I chose a low traffic corner in La Parte Vieja and just played guitar for me. But in the middle of it all some guy ran up, placed a euro on my case, and as I protested, simply said "para la cerveza", for beer. After that I opened my case and made a (very) little more, and then treated myself to la cerveza, courtesy of the people of Donostia.
After my busking adventure, I dropped my guitar off somewhere safe (a friend's room in old town, to avoid carrying it for 30 minutes back to Amara) and decided I did need to rest and for the first time this trip, went home early and took a nap. I needed to be awake for Snarky Puppy! After a brief rest, I walked back toward the beach and met with people at a bar. A real bar, not a club, which is what a lot of these bars seem to be trying to mimick. A small drink later, we're going our separate ways and I'm waiting on the beach for Snarky Puppy to blow my mind.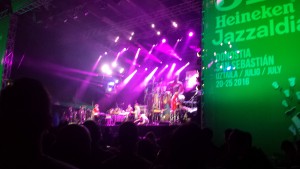 Their songs were long, loud, and syncopated. I was up close and seeing them perform was super fun, seeing the fingers work the instruments is another level of cool. They played all my favorite songs (which are coincidentally their more popular ones) which was fantastic, and their encore was my absolute favorite song which was super awesome. Hearing them start that song was probably the grooviest moment of my life yet. Here's to hoping it gets groovier.