There's no sophomore slump for the annual UMOVE Student Research Symposium. The UMass Movement Research Center (UMOVE) recently held its 2nd annual symposium and welcomed more than double the number of participants that attended the inaugural event. Students, faculty, staff and experts from the university and in the region gathered to share and discuss innovations in biological movement, and more importantly, to learn about the research conducted by students.
Julia Schneider, a graduate student pursing a master's degree in Biotechnology, was the graduate poster winner of the day. She presented her project studying a protein which is involved in heart muscle contraction. Alterations in this protein are responsible for heart diseases such as dilated cardiomyopathy (DCM) which is the leading cause of heart transplants in the United States. "With increased knowledge and understanding of heart function and alterations, it is my hope that new therapies can be developed for people suffering from heart diseases such as DCM," says Schneider.
Other students are also focusing on understanding proteins and their role in human health and performance. Colleen Kelly, a PhD student in Chemistry at UMass Lowell and winner of the symposium's student talk competition, is conducting research on immunoglobulin domains in the muscle protein, titin, and the correlation between its mechanical and chemical unfolding. Proteins must take shape in order to function properly, and if they do not fold correctly, medical complications may develop. Kelly uses magnetic tweezers to study the mechanical folding of domains in muscle protein which helps determine the parallels between mechanical behaviors and chemical manipulations derived from previous studies.
In addition to presentations, students were also tasked with planning and managing the entire symposium. From coordinating the keynote speaker, Michael Previs, assistant professor of molecular physiology and biophysics from the University of Vermont, to managing sponsors such as the Biophysical Society, a team of students made the event a true success. Matthew Gage, associate professor of chemistry and director of UMOVE, intentionally relies on student leaders of the center, offering a unique professional development opportunity in addition to the students' technical science-based learning.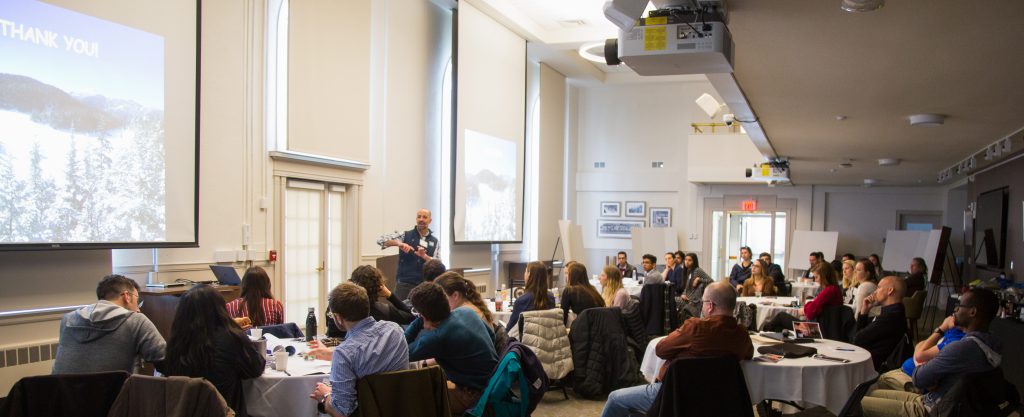 Gage looks forward to continuing the UMOVE Student Research Symposium: "I believe it is important to provide as many opportunities as possible for students to present their work and to get feedback on what they are doing, especially from their peers. We are starting to see students have a broader perspective in their understanding of how their research impacts more than their specific field, and we anticipate that will grow in the future."
As evidenced by the symposium, UMOVE is not only living up to its promise to engage, train and support the next generation of scientists, but the center is poised to expand in its other values. UMOVE was recently designated as an official UMass Lowell research seed center with its strong potential for increased research funding, synergistic activities and interdisciplinary work.
Gage hopes to build upon and increase collaborations among faculty across the university in the future. By applying a strong interdisciplinary approach combining comparative biology, nutrition and public health, UMOVE already transcends the capabilities and offerings of traditional biomechanical centers. With an array of expertise and perspectives from UMOVE members, the Center is making strides in its goal of understanding the principles of movement and ultimately translating basic discovery into clinical applications that address movement related issues in health, injury rehabilitation and injury prevention. It's safe to say UMOVE is moving in the right direction.