Disclaimer: Anything written in this blog represents the opinions of the author, and no one else. Each blog is written lightly, and is not intended to offend any of the mentioned businesses, locations, students, or staff.
IT'S SPRING!!!! Well, maybe not until the 20th but its sure feels like it on campus. I'm serious. I was beginning to think that I was the only one who left my room for a couple of months, but salvation is here! This weekend, I saw more students out and about in one day than I saw this past winter in total.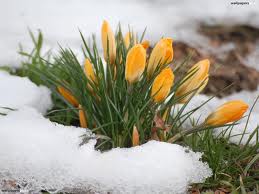 Weather reports may predict snow amid the sunshine this week, but I choose to deny science. The fact that the 3 foot walls of snow on the way to the dining hall have shrunk down to 3 inches is enough to prove to me that winter is over. I know that spring is here and that the next two months will fly by due to the activity that arrives on campus as soon as the sun shows its face.
Look out, spring, here we come!