Meet Steffan!
Steffan is a business major with concentrations in both Management and Marketing.  He is a transfer student from Massasoit Community College and is now a senior at UMass Lowell.  Originally from Stoughton, Massachusetts, Steffan currently resides in the ICC downtown Lowell.
Steffan has pursued an extremely successful path here at the university.  He is a double concentrated major, has an internship, and is also involved in many different organizations.  Some of those include MALES, Dean Student Leadership Council, Men's Club Basketball, and Make-A-Change Inc.
Make-A-Change Inc is a nonprofit organization that Steffan has cofounded over the last few years.  This organization is dedicated to changing the lives of young individuals that have endured hardships in their short lives through neglect, drug addiction, etc.  Please visit their website to read about his involvement and the impact his team has made along the east coast.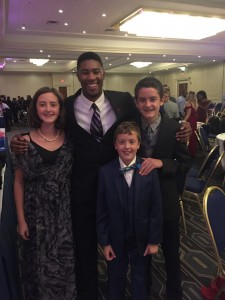 Pictured above is Steffan at the First Annual Gala for Make-A-Change Inc. with Professor Magnant's children.  Steffan had a very successful turnout for the event.  It's wonderful to see individual involvement, especially from staff members such as Professor Maganant and her family.
His succes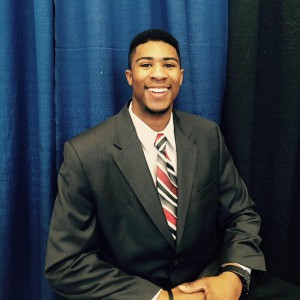 s at the university was made possible by those he has met at the university.  "Professor Jordan's class and Professor Magnant have been a blessing to my learning and growth," quoted Steffan.  He has taken full advantage of his time here even so by obtaining an internship through the Career Fair last year.
Please remember to checkout the Make-A-Change Inc. website to help out this great non-profit organization.  If you liked Steffan's story, contact Kellsie Howard at Kellsie_Howard@student.uml.edu for more information!