Meet Briannah!
Briannah is a very successful management and marketing major who has fully indulged herself into Umass Lowell by joining many clubs, participating in community service events, and working on campus, all while upholding a solid GPA.  There seems to be nothing that holds Briannah back as she balances these key factors to her success!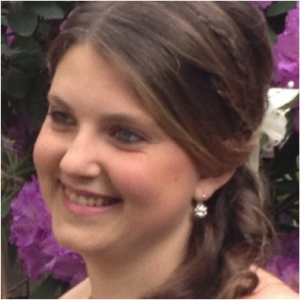 One way Briannah is able to be so successful is by finding a quiet place to get down to business.  There are many places on campus for students to relax and do their homework such as Starbucks on north campus, the business study center located next to the Bloomberg lab in Southwick Hall, or the Club Hub, which is where Briannah likes to go.
"One of my favorite things to do on campus would be to sit in the Club Hub at UCrossing during the day while doing homework. I love the feeling of being able to look out the floor to ceiling windows to see everyone going about their day at work or going to class. It helps me picture the future that I want for myself and grounds me to do the best that I can at what I am doing now in order to get my dream job, being the CEO of a company."
Before coming to campus, Briannah went to Bontoon High school located in New Jersey, where she lives when she's not on campus.  As a high schooler, she was able to find the time to play field hockey for four years and participate in more than ten clubs such as Key Club, French Club, Peer leadership council, and more!
When she came to Umass Lowell, living on campus was something she spoke highly of.  Many students who live amongst their peers can agree that you are way more involved.
"Living on campus was a necessity for me my freshman year – I was an out of state student on the Varsity Field Hockey team. Sadly, I suffered from a back injury, and decided that it was no longer in the cards to continue playing. For my second year at Lowell, I had decided to live on campus again, something that my friends will tell you I didn't want to do. I wanted to be independent and have my own bills to pay, but that wasn't financially possible at the time. Little did I know, I would have the time of my life living on campus my second year. Most of my friends lived in the same building as me and we not only took the time to study together for exams, but we also had movie nights with pizza once a week. I wouldn't have traded that experience for anything."
Briannah is also involved in many organizations on campus including Colleges Against Cancer, Relay For Life, American Cancer Society, Honors Ambassador Council , Dean's Student Leadership Council, Marketing Club, and even Division 1 Varsity Field Hockey.  That being said, it is very easy for students to join as many clubs as they please, and even rise the ranks to become president, treasurer, or other officer positions, as Briannah has proven.
Side Note: If you'd like to join Marketing Club, please email Briannah_Larsen@student.uml.edu for more info!
Having personally worked alongside Briannah in the Office of the Business Dean, she is definitely a prominent face of the Manning School of Business.  I believe that by striving here at Umass Lowell, she will continue to be successful in her future endeavors.
If you'd like to share your accomplishments and show the Manning School of Business what you are made of, please email me, Kellsie Howard, at Kellsie_Howard@student.uml.edu to share your story!