Meet Alex!
Alex has taken on the responsibility of completing not one, not two, but three majors here at Umass Lowell.  His field of studies include business, economics, and mathematics.  He has successfully juggled being a triple major on top of running the finance society and maintaining an internship.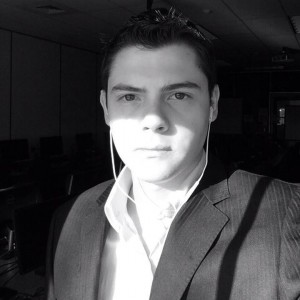 Alex's passion for education and success comes from his upbringing.  He has traveled the world, learning new and great things from each country he visits.
"I was born in Boston but raised throughout the United States. I've lived in Orlando, Houston, Boston, Seattle, and even spent some time living in Costa Rica. Moving around has become a fundamental principle in my life, it grew as the passion to explore. I've travelled to over 30 different countries to immerse myself in culture, art, and the beauty of the planet we live on, from deep in the Amazon to the pristine beaches of the Maldives. My ambition to keep moving forward, to keep exploring, is also seen in my work ethic."
Alex is involved in numerous organizations seen around campus.  You can almost always find him and Naveen Kumar working on projects in the Bloomberg Lab located on the second floor of Southwick Hall.  They played a large role in bringing the Bloomberg terminals to the university and are quoted as saying that they are a "huge step forward for the university."  Check out the article linked to Bloomberg Lab to learn more about it!
"My freshman year I participated and won in several competitions including the DifferenceMakers Idea Challenge (First Place Sustainable Environment) and DCU Banking Competition (First Place), joined the Dean's Student Leadership Council, and gave a TED Talk on young entrepreneurship. As the years past, I shifted my time towards extracurricular activities such as business ventures, running the UML Finance Society, and travelling."
Internships and Co-ops are a must before you start applying for your dream job.  Alex has started putting his tools to work, having already obtained internships at Wainwright Investment Council as a financial analyst and at Biogen as a summer analyst.
Side note:  Please visit the Co-Op Center for more information on how to apply for one, and why it will be an advantage to you in the working world!
Although he does not live on campus, he has certainly succeeded in different aspects of the university.  He has explored three different sectors of the university through his majors, joined a few clubs, and made plenty of acquaintances.
"My favorite thing about UML has to be the people. There are so many students who have true intrinsic motivation in their field of study, they get involved in competitions and organizations, which further motivates others. This chain of reaction creates a pleasant atmosphere that fosters learning, socialization, and thought."
Alex has always told me that networking is his key to success, so be sure to get to know your professors because they have a lot to offer!  Seeing how successful he has grown to become, this piece of advice proves to be true.
If you enjoyed Alex's successful journey at the university, please email me, Kellsie Howard, at Kellsie_Howard@student.uml.edu to share your own!