Meet Amanda!
Amanda is a business major with concentrations in Marketing and International Business, although she says this may change since she's only a sophomore at Umass Lowell!
"I would love to go into Marketing or Public Relations and work with companies and clients to build their brand. Preferably I would love to work internationally, so I can see how different countries run their businesses."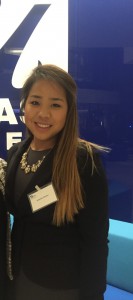 Before Umass Lowell, Amanda attended a small private school called Lexington Christian Academy.  Following graduation, she took a year off from school.  She worked in two restaurants as a hostess and on a food truck/bakery where she became the Assistant General Manager.  Amanda enjoyed her year away from school, quoting that she "gained valuable life skills before coming to college."
Devoting her success to living on campus, Amanda has shown that she's very involved on campus.  She is currently participating in certain organizations such as the Colleges Against Cancer committee and Dean's Student Leadership Council.  Both of these are well-respected and favored by many at the university.
Amanda also has time for an on-campus job.  She is currently the Social Media intern for the Manning School of Business- check out her posts on Facebook and Twitter!  "If I hadn't decided to attend UMass Lowell, I don't think I would've had the opportunity to become so involved on campus," quoted Amanda.
Fox Hall is the freshman dorm that 800 students of all different majors resided in.  Of the 18 floors within the tall building, three were renovated and devoted to certain majors.  The 6th floor was considered the "Business LLC"  and was where Amanda, myself, and 40 other students lived.  We were able to attend many business activities offered by the university.
"I loved living on campus. I was a part of the Business Living and Learning Community. Living in the LLC helped me meet new people who were in my classes, which also helped make it easier to study together! As a part of the LLC, we were able to do a lot of unique activities, such as attending a marketing event at Lowell General Hospital, having dinner with some of the Manning School of Business faculty members, and we also had the opportunity to go to The Loft in the Burlington Mall, where a former UMass Lowell student taught us how to pair outfits together for business attire."
"Some of my favorite things to do on campus include going to the dining hall with my friends to hang out, going to the gym, and going to some of my club meetings. One of my favorite memories was Relay for Life this past April. I am on the committee so it was amazing to see all of the committee's and my hard work come to reality!"
Side Note:  Relay for Life is an amazing fundraising event for the American Cancer Society.  Last April, many students gathered in the east campus gym to support and raise money for the ACS.  If you have a free night to attend this event, or even would like to donate to this great organization, be on the look-out for next year's event!
Amanda has taken advantage of every opportunity as a freshman at the Manning School of Business where she has joined many clubs, obtained a job on campus, and built strong connections with other business students and faculty members.
If you'd like to send me your most memorable moments at the university, please email me, Kellsie Howard, at Kellsie_Howard@student.uml.edu!