As our trip came to a close, we started our last day in Havana at the Centro de Estudiantes Martianos for a lecture about the sports and sport culture of Cuba. Our lecturer was actually a sports commentator who was very passionate about the history of Cuban sports as well as the sports themselves. Cuba has not historically been recognized as a country with outstanding sports teams in the global Olympics before the Revolution, so it became a priority under the Castro regime to attain a global status through sports. Olympic medals are typically symbolic of a country's superiority, strength, and power, and as a newly independent nation, Cuba wanted to assert its independence and power by attaining as many medals as possible. Steadily from 1959 to the mid 1960s, Cuba's intense focus on sports became evident as competitions were won throughout many different sports, reaching a pinnacle in 1964 when runner Enrique Figeroa came in second to the United States at the 100 m sprint during the Tokyo Olympics.
The history of Cuban sports, from the perspective of Cuba, is shown as an underdog story where the Cubans are victorious over powerful American oppressors and reassert their independence with every victory. At first, I was uncomfortable with this view of Americans, but this perspective had been a theme throughout our academic exploration of Cuba. I found the Cubans' reason for wanting to be victorious very interesting because from the American perspective of sports the focus is generally on being the best in the world and defeating every country (especially Russia in the Cold War era) rather than focusing on just Cuba. It made me feel like America was a bully that regularly beat up so many kids that we had lost count of who we had hurt. With that said, I really enjoyed watching the highlight reels of the Cuban victories because they were extremely impressive even though I was watching my own country being defeated.
After the Cuban sports lecture, we split off into groups to pick our last independent meal of the trip. I ended up with Brittany, Emma, and Jennifer at the palladar where we ate on the first day, La Catedral. It was poetic to start and end my lunches in Cuba at the same restaurant. When I first arrived, I had been very nervous about eating because of personal dietary restrictions. I was sure that I would get sick by day two, as I was stuck with a salad on the first lunch. By the last lunch of the trip I was not only comfortable, but confident while ordering. I even ordered the steak, which is probably the complete opposite of a salad. It turned out to be a very lovely outing. We ate delicious food, reflected on our trip, and spent the rest of our CUC on flan.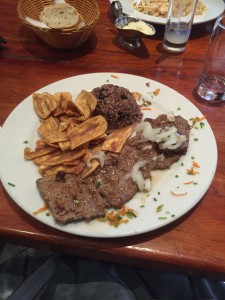 After lunch, we headed back to the CEM for our graduation and certificate ceremony to celebrate our completion of the two week course on Jose Marti and Cuban culture. Another study abroad group, Worcester State, also received their certificates at the same time and got to share their experiences with us. Jake from our group volunteered to say a few words about how we all enjoyed the trip and how we had the opportunity to view a unique immersive perspective of Cuba. Our professor, Julian, also made a nice speech about how traveling anywhere in the world takes a leap of faith and he was very proud of us for furthering the thawing Cuban-American relations.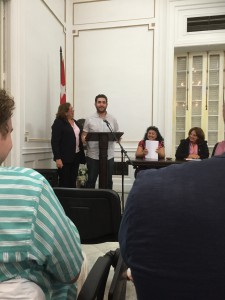 My favorite part of the ceremony (besides the delicious sparkling cider afterwards) was when the director of the CEM, Ana Sanchez Collazo, ended the ceremony by encouraging both groups to further our education of Jose Marti and the teachings of Cuban history when we return to America. She urged us to share the truth we have witnessed about Cuban culture, whether it was good or bad. Her words made me feel like Cuba wants to enter a more open relationship with the United States based on honesty and trust between common ambassadors, such as us students. Director Collazo ended her speech perfectly by sharing the CEM belief that culture should have no borders. I felt like she was giving me permission to actively participate in the Cuban culture back home in America and consider it an extension of authentic experience I had on this trip. In some way, it made me feel like a part of Cuba could be mine and I could carry it with my in checked bag when I left.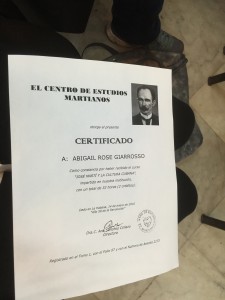 After the ceremony, we returned to our residencies with a little free time before our API dinner and dancing event. Most of us had decided to be proactive and start packing until it was graciously interrupted by our lovely host Carlos offering us a pot of tea. The six girls living in the residencia sat, chatting in the familiar sun room which we ended dinner with every night, and reminisced with Carlos about Cuba and the experiences we had had so far. Generously, Carlos offered to show us his rooftop garden which was easy to tell that he had much pride in. Right above us this whole trip was an adorable rooftop with the best view of Havana I had seen in the past two weeks. A little shaded patio surrounded by flora and a 360° view was overwhelmingly beautiful to say the least. It was evident that Carlos prides himself with his own work.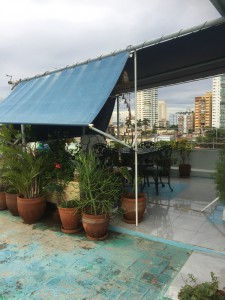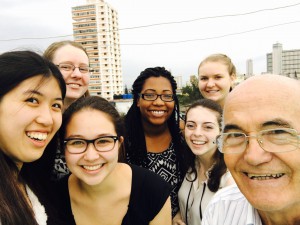 At the main residencia, we met up again with Worcester State and traveled as a large Massachusettean group to a special restaurant in which we practiced all of the skills that Cuba has taught us. We drank authentic mojitos. We practiced our salsa moves. We waited patiently for our meals. We sang with the live band playing at the restaurant, favorites include "Hotel California" and "La Bamba". We smoked cigars. And eventually we ended up eating our delicious meals. We had a very fun sendoff meal and had to say goodbye to a lot of familiar faces including our translator for the trip, Ana.
Returning to the resedencias for the final time, I began to feel nostalgic for the moment. The unique and fleeting moment of being in Cuba at time of, thawing relations, impending American tourism, and 80 degree weather in January. When will I ever again feel the midnight breeze of the Malecon? What if I never see Old Habana again? I strained my head around the bus's windows trying to get one last glimpse of Cuba before heading back to America. I realized that just as Jose Marti sparked a revolution in Cuba from abroad, and how Hemingway was never the same after he left his Cuban home, it seems very hard to lose passion for Cuba once you have been a part of the culture. Director Collazo's philosophy that culture has no borders became a comfort to me in my moment of sadness that night. Although we cannot physically return to Cuba whenever we miss it, we can always access the feeling of being in Cuba, of being in the moment, through cultural practices and timeless memories.