This past weekend we had an excursion to the wonderful city of Annecy, known by many as "Little Venice". The villa was vibrant with its historical architecture and the French Alps in the background were certainly a view. I was blessed enough to have visited Annecy for a very traditional festival known as The Return From the Alpine Pastures.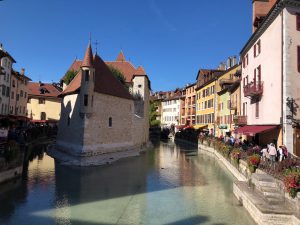 The streets were filled with tourists from all over France and all over the world to try to get a glimpse of French tradition. Shops all over Annecy were opened, food stands were located every 20 feet, and music could be heard all throughout town. The festival consisted of a parade all over Annecy and included numerous amounts of animals such as cows, donkeys, geese, dogs, and horses. Here is a picture of the boldest and most powerful geese I have ever seen walk along the streets of Annecy.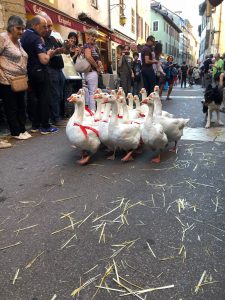 The parade features and holds on to the tradition of bringing in the cattle and other animals back from the pastures where they have been all summer long. Also, it consisted of traditional French folk music and attire. People of all ages were speculating over the entertainment and festivities being held. There was a concert as part of the festival which I was lucky enough to be front row.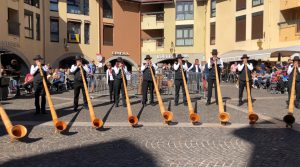 Besides the parade, the Annecy lake was beyond gorgeous and inviting due to its clean and glistening water. Bridges spread from one side of the lake to the other and Annecy's warm climate made it all a great experience. The weather was so great people headed over to paddle board or simply jump in the water.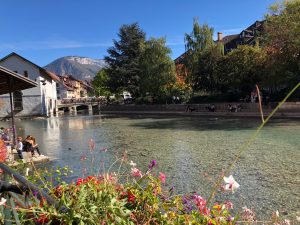 One of the things I tried while in Annecy was its apple cider. Not only was it delicious but only .50 euros!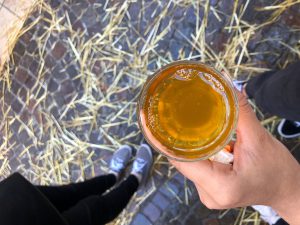 In addition, I tried a well-known dish called Tartiflette, which is a creamy mix of potatoes, cheese, and ham. Tartiflette is a very popular dish often eaten by many during the winter. The line was so long but worth the wait! I highly recommend trying this dish if you ever get the chance to go.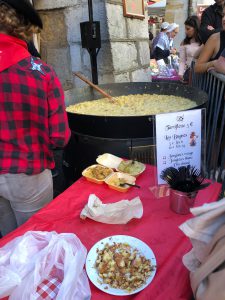 Annecy was a unique city because it maintained onto old customs and strongly embraced their ancestor's values. I was able to get a glimpse of what Annecy was before and what it is today. Even through its architecture, it resembled French lifestyle from the past. There are people who make a living from herding their own cattle and planting their own crops. There were kids herding their animals and fathers driving their tractors. Family businesses were promoting their home-grown and local recipes. Home made soaps, honey, bread, and jewelry were out on display. It was beautiful to see people go out and share with others their traditional desserts, dishes, attires, and music with those who come from a world different than theirs. For the first time, I saw musical instruments that I had never even imagined, which were typical to French music.
The city was crowded, and it was a beautiful sight to see people from different backgrounds unite and engage in this parade. France is more than just berets and baguettes, it is unity, freedom, pride, and love for the seed planted by their ancestors.