On June 1, 2021, DifferenceMaker held its' Kickoff Boot Camp session!
Holly Lalos, Program Director, DifferenceMaker, led the session. The session started with introductions from each advisor. This years' advisors are:
Then, introductions from each of the 2021 Idea Challenge DifferenceMaker Teams took place. The teams participating in this summer's Boot Camp are:
Apple a Day
Digital Life
Green Fertilizer
NavLens
Terminus
TrueFIT
VieVest
Wonder Wheel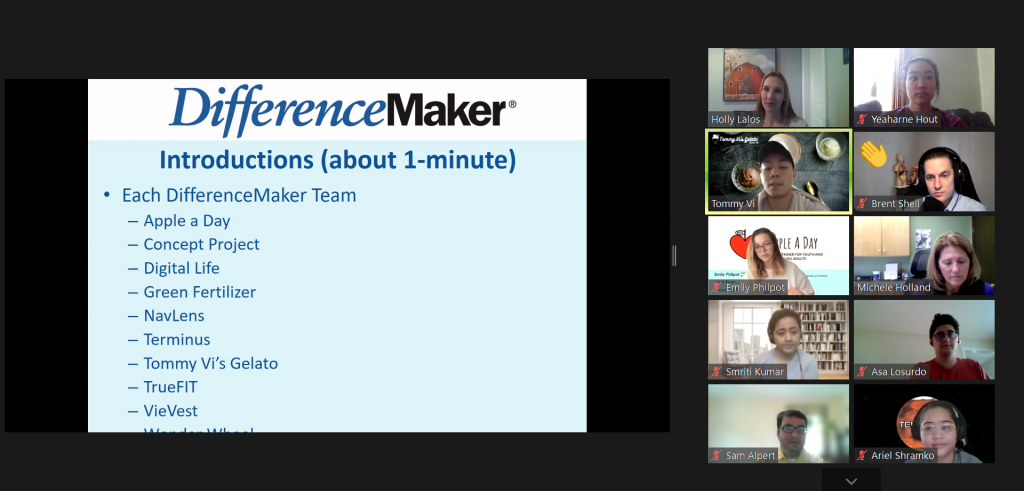 Following the introductions, Holly went through the outline of what to expect during future Boot Camp sessions. For example, there will be various guest speakers who will share advice and their entrepreneurial experiences. Each week, homework is assigned, where each team will create a presentation and receive real-time feedback from the advisors during each session.
Additional exciting opportunities were presented to the students. The teams are being offered $15,000 of in-kind legal services from Foley and Lardner, LLP. There is also an opportunity to collaborate with the Manning School of Business, where teams will be connected to sales/marketing students who will assist in creating marketing/sales plans. Both opportunities are great for the DifferenceMaker student entrepreneurs!
To end the session, there was a brief recap, followed by a Q&A session.
Congratulations to all winning teams! DifferenceMaker is looking forward to seeing your progress and growth.