The second workshop of the 2017 series, Assessing Opportunities and Value Proposition, was held on Wednesday, February 22nd from 5:30 to 7:30p.m. in Lydon Library, Room 110 on North Campus. Ha Pho, Project Manager at the DifferenceMaker Program, led the discussion about how students can continue to advance their DifferenceMaker projects. During the workshop, while they enjoyed food and beverages, students worked in their teams to explore the opportunities associated with their projects and with their project's value proposition.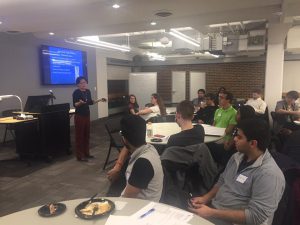 Please attend the last two workshops! Food and drinks will be served!
February 27th – Workshop 3: Developing Your Business Models
March 1st – Workshop 4: Delivering Your Rocket Pitch
All workshops are held in the Lydon Library, Room 110 on North Campus, from 5:30-7:30p.m.