The first workshop of the 2017 series, Identifying Problems, was held on Wednesday, February 15th from 5:30-7:30p.m. in Lydon Library on North Campus. Holly Butler, Entrepreneurial Initiatives Project Director, led the discussion in helping students identify the problems that they were interested in solving and how the DifferenceMaker program can help them. Working together, students discussed their problems and helped each other develop a greater understanding of the problems they are trying to solve with their DifferenceMaker projects.
We hope you all can make it to the rest of our Workshop Series!
Food and drinks will be available!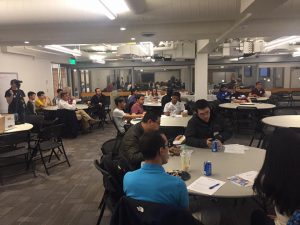 All workshops are held in the Lydon Library, Room 110 on North Campus, from 5:30-7:30p.m.
February 22- Workshop 2: Assessing Opportunities and Value Proposition
February 27- Workshop 3: Developing your business model
March 1- Workshop 4: Delivering your Rocket Pitch