On Wednesday, December 7, 2016, UMass Lowell's Francis College of Engineering hosted the Engineering Prototyping Competition in the Saab ETIC on North Campus.
Student teams who developed prototypes over the course of the fall semester presented their projects to several alumni judges. During the preliminary round, judges visited the presentations of each team and then deliberated to decide which teams would compete in the next round where pitches were made to another panel of judges.
The 1st place winner of the Graduate Award was team Cyborg consisting of Jishnu Menon Asokakumar, Ram Das, Adam Ferguson, Chandra, and Chiren. The team was awarded $1,000!
At the undergraduate level, the 1st place winner was Project Starfish consisting of team members Travis Kessler, Christopher Johnson, Gregory Dorian, Maxwell Roy, and Roma Aurora. The team was awarded $1,000!
The 2nd place winner of $750 was Breezy with team member Anne Faber and advisor Scott Stapleton.
The 3rd place award was team BASH – Biodigestor Aided Solution in Haiti with team members Michael Doane, Nicole Belanger, Owen Gannon, Alanna Grondine, Kayla Dooley, Maureen Kelly, and Jeff Beck.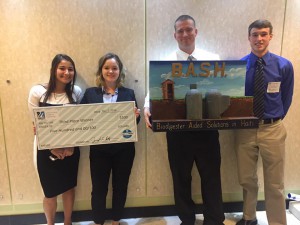 The Honorable Mention winner of $250 was a team that developed a Multi-Dose Auto-Injector!
Congratulations to all winning teams!
Also, we would like to thank all of the judges that provided their thoughtful insight and expertise!
First Round Judges:
Jim Pinzano, BAE
Paul Crew, CambridgeIntelligence.com
Tony Qualiette, Skyworks
Harrison Frye '15, Innovation Hub
Linda Barrington, SLICE
Ray Lam, Skyworks
Final Round Judges:
Chris McKenna, Foley & Lardner
Mark Yates, New England Keyboard
Bill Geary, Mintz Levin
Nirav Patel '00, '02, G&F Medical
Steve Tello, DifferenceMaker