Sean Hayes:
Replenished by a hearty breakfast spread of oatmeal and fresh fruit (pineapples, mangos, bananas), the 'engineering contingent' of our team crammed into a flashy red pickup truck and set out for our most critical mission of the week.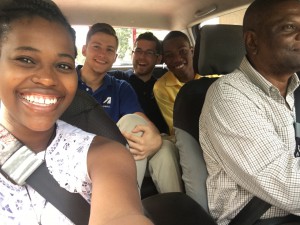 Having spent much of our previous days testing our shredder design, constructing a wooden stand and demonstrating its functionality to Ralph and Dayana, it was now time to take our design to a local trade school. For our vision to be realized, it is essential that we build local partnerships that can provide the resources, skilled labor and cultural know-how required to implement a sustainable briquette-making program. Leaving the densely populated main streets of Les Cayes, we entered the more rural countryside on our way towards the trade school.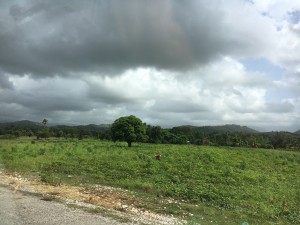 Passing by market stands, grazing fields and rice patties, we took an abrupt left turn down what had to have been the bumpiest, rockiest, sorriest excuse for a road I've experienced in a looooong time. To our great relief, the trade school Ateliers Ecoles in Camp Perrin soon emerged from the among the trees. Towering warehouses dwarfed the surrounding vegetation as dozens of Haitians moved to and fro constructing metal frames for a school building, welding giant metal pipes and (as expected) staring at us, the strange new visitors.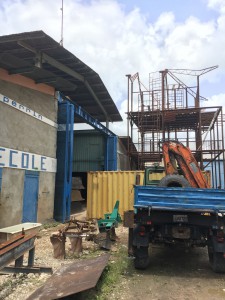 We were quickly greeted by the director and founders of the trade school. After giving us a brief explanation of the trade school's vision and history, we talked about the challenges of implementing our bio-briquette small business and discussed the possibility for future partnership in implementing scaleable, sustainable solutions in Haiti. Much to our surprise, they were already aware of this briquette making process, and showed us a machine they've manufactured for the shredding of the vertivert root (one of Haiti's main exports, used as a binder in perfumes)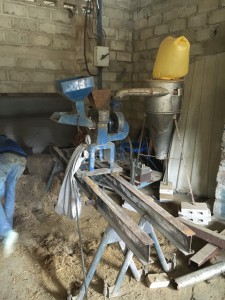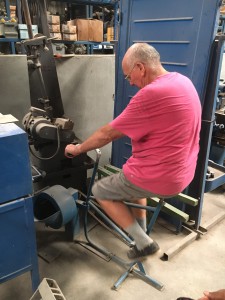 They reciprocated our enthusiasm for partnership in the creation and implementation of future solutions. We left this fruitful introduction feeling very hopeful for the future opportunities this partnership. We hope to work through Ralph and Dayana in the upcoming months to refine our shredder designs and see our next model fully manufactured in Haiti.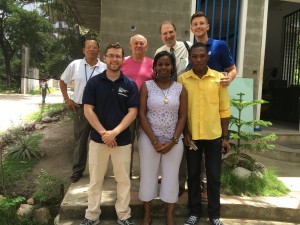 -Sean