Tom: As the week moves along, we are now starting to get into the work that we came to Haiti to do. Sean and Mike are beginning to experiment with their chipper and Andrew, Dr. Laycock, and I have started organizing our materials for the outreach activities that we will be doing in the coming days.
We also go the pleasure of meeting, or in seeing again for some, Ralph and Dayana yesterday. Without them then our activities wouldn't be possible and they are the reason that we are able to do anything at all here in Haiti. They will be our translators, our guides, and our friends over the course of the week.
While we may have begun to work, we have still been having our fun. A second night of spades brought even more enjoyment as we tried playing in teams. Ultimately, Dr. Giles and I may have lost to Andrew and Sean but at least we managed to beat Dr. Laycock and Mike. Today we were treated to fresh coconut picked straight from the tree. A man climb a tree to drop coconuts and then open them with a machete is certainly something that I will never forget.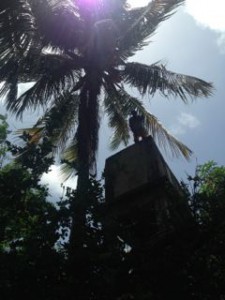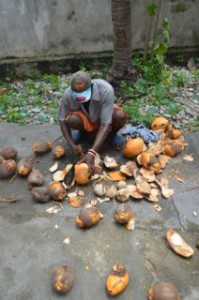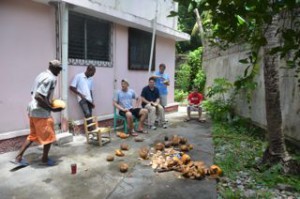 -Tom