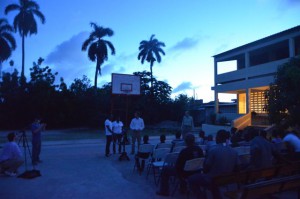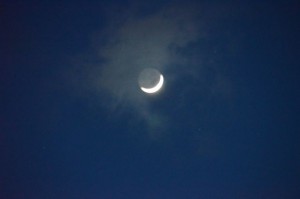 Mars was the orange beacon among the stars of Scorpio, just rising above the palm trees in the East, Saturn hiding in there somewhere closeby, Jupiter directly overhead in Leo, and the crescent moon glowing low in the West. A perfect parade of planets for the first Les Cayes – UMass star party at Sainte_Marie des Anges school. As dusk came on, a large block of chairs were arranged on the basketball court, two telescopes set up, and children and their parents (mostly fathers) began to arrive. We had wondered if anyone would show, and were pleasantly surprised (if a bit overwhelmed!) by the turnout. Was I ever glad I'd scouted out the sky the night before, and memorizing my "sky tour" – can't have people knowing that we astronomers don't carry the current position of all celestial bodies in our heads at all times!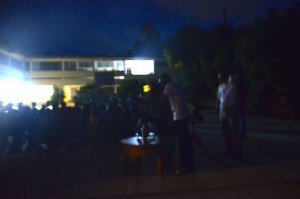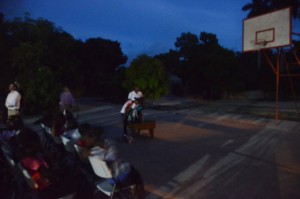 As 7pm arrived Ralph and I began our spiel – working closely with this accomplished Haitian astronomy expert was a blast. Somehow he was able to keep an engaging banter going between us all despite my infamous language skills. The audience had so many questions, and were eager to look though the long-touted telescopes. They were not disappointed, as the narrow crescent showed many mountains, craters and ranges along the terminator– plus a spectacular impossible-seeming peak at the moons pole, poking up into the sunlight from the shadowed side.
The audience had to wait patiently for everyone to get a look, but it was beautiful evening and everyone sat or chatted in small groups. A pale owl and several bats flew above us. Some of the younger kids had to be lifted up to the eyepiece or stand on the table -something we all got an added kick from!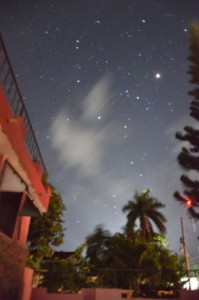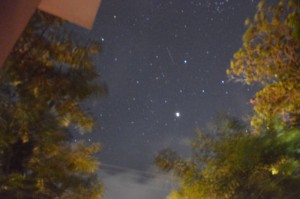 Dayana and Tom were busy with a second telescope trained on Jupiter while Andrew took pictures of the night sky.
In between bands of clouds we explored Jupiter and it's moons, we discussed the various constellations along the ecliptic, counted the stars in the Dipper to find the Alcor-Mizar double. My claim of 7 stars being quickly overruled by a group of girls that counted 11 – all agreed it was due to the much more beautiful skies of Haiti compared to Massachusetts.
By "home time" we had thoroughly discussed the finer points of interplanetary flight (how fast – how many times faster than a bullet? How DO you slow down again? How long does it take? – everyone still wants to go!), the latest news from Mars and the prospects for life in the solar system. Several kids and parents had clearly come armed with questions they wanted answering, and were not leaving without getting satisfaction! One of the most engaging and interested audiences I've presented to anywhere.
After the kids had left, this being Haiti we *had to* put the party in star party! -a little late-night round of champagne with Principal Fr. Lesly and his staff. Prof Giles gave a fine speech and only half soaked the scene with his celebratory uncorking technique…..