After a long hike up the Parque de Ursull we stopped somewhere along the way back down that had a beautiful view of la Concha beach, where we got to meet Marti Buckley, who is the author of Basque Country: A Culinary Journey Through a Food Lover's Paradise.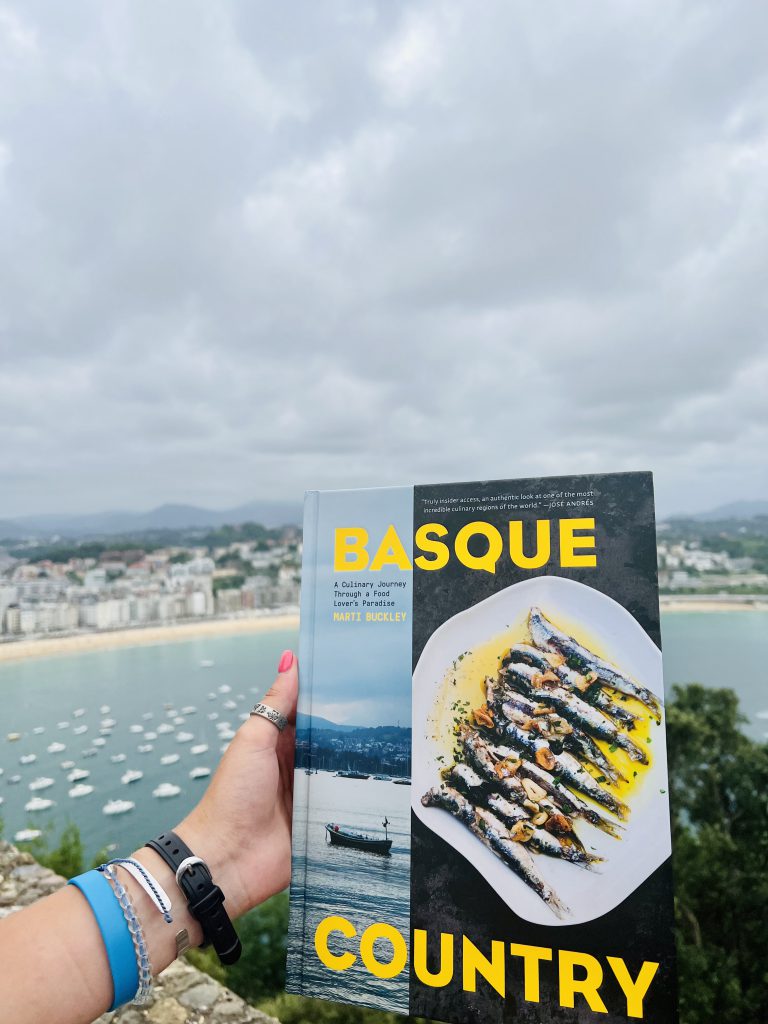 Marti shared with us some of her back story and her journey of writing and publishing this book. She first visited Spain in 2005 through a study abroad trip in which she was situated in Pamplona which is a near by city close to San Sebastián. Pamplona is where they celebrate the fiestas of San Fermin with the running of the bulls. Through this trip she got to try and learn all about the Basque cuisine, much like how we are now. Eventually she went back to the United States but really embraced cooking after this study abroad trip and she slowly got into cooking. She knew she wanted to come back to Spain so when presented with the opportunity to move out to Spain for a year, she took it and flew out to Spain with her family. What was supposed to be a year turned into many more and she is still here in San Sebastián now. While living in San Sebastián she got the idea to write a cookbook about the Basque Country cuisine as it had never been done before and she felt it important that it had to be done and she wanted to be the one to do it. After thorough research which included learning about the history of the recipes, going out to all the different provinces and talking to different people etc., she was able to start getting her cookbook together. After three years she was able to finish her book and publish it for everyone to read and enjoy.
Something important to consider about her book is that it was heavily meant for an American audience which is why there is the inclusion of very specific measurements of ingredients for the recipes but a key note here is that she still wanted her book to keep the Basque culture in it as it is being written about the Basque culture through food. Marti didn't want any American touches in the book she wanted it to be "Basque grandmother approved" as the only cookbooks there are in the Basque Country are all grandmother type books with minimal instructions and just mainly ingredients. Marti mentioned how she wanted this cookbook to be a way for not only people who know nothing about the Basque Country to learn about the food culture here but also for those who are from the Basque Country or have family from the Basque Country but aren't living here at the moment. She wanted this book to serve as a connection to their Basque culture and for them to be able to maybe cook a recipe for their family or friends. She also wanted the book to cover all the seven provinces of the Basque Country in order for the audience to understand how vast Basque cuisine really is. I can truly say that reading this book before coming to the Basque Country was the best thing to do and I recommend everyone do it when thinking about visiting the Basque Country. It was so informative about not only the food in the Basque Country but also the history behind each dish and the traditions behind the different foods and their significance to the Basque culture.
The most unique aspect about Basque cuisine is not just the food itself but the whole experience. Basque cuisine is about knowing the culture and history behind the food but also the landscape of the country and the timing of when you eat the food. Basque cuisine is not just eating a dish it is a whole experience into the Basque world. Through the food you can really immerse yourself in the Basque culture and learn so much about their traditions and how the Basque people live and interact.
The timing of the dining experience here in the Basque Country is one of the most surprising and amazing aspects that I have gotten to enjoy on this trip so far. It is typical for bars and restaurants here to open up for lunch around noon to about three and then take their "siesta" break and then reopen at around seven until midnight. Now for someone who usually has dinner at like five this was a big shift and shock but after having dined this way for a week, I love it. It allows for a better break between lunch and dinner in which you get to digest your food and just relax while you take a stroll around the city, go to the beach, or just take a nap!
Something beautiful that Marti mentioned is how in Basque cuisine there is not one unified or correct way to do things. The recipes and experiences change depending on the area in which you are trying a specific dish. So it can technically be the same dish but different parts of the Basque Country will do it differently and put their own little spin on it, which makes it seem like you are trying something new all the time.
So if you ever are considering to come to San Sebastian, don't forget to pick up a copy of Basque Contry: A Culinary Journe Through a Food Lover's Paradise by Marti Buckley. Trust me you won't regret it!