While unsure of what would be the hike up Mount Urgull, I was still more than eager to go on this adventure. Though identified as a mountain, Urgull from the perspective of the city seems more like a looming, large hill, overlooking the many people below. This may be why a church was built at the top along with a towering statue of Jesus, a seemingly appropriate way to acknowledge a large mass of land — that is to build something on top.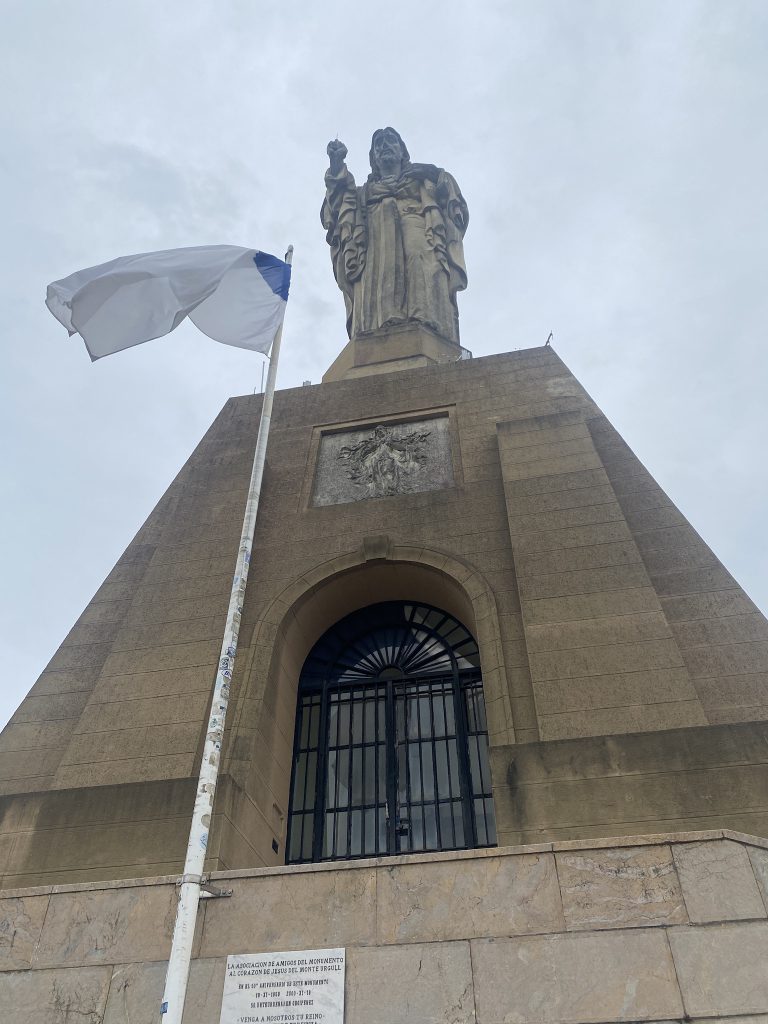 The first settlement in Donostia (the Basque name for San Sebastián) was built in the shadow of Mount Urgull. Slowly, the town progressed from a few homes and warehouses to a city and fortified garrison. The initial fence marking the area for taxation was gradually turned into thick walls in the 16th and 17th centuries, which protected the city and its inhabitants.
As we went up the mountain, it is fair to say that the views were arguably better than those in the forests of Massachusetts, but it depends on who you ask. Unlike the trails back home of worn down pine needles, these paths were made by carefully laid stones (along with some concrete). While not always even, the stones provided a unique walking experience that is rarely found in the United States. Some of the stairs did prove a little tricky if you weren't watching your step, due to the lack of light and unevenness of the stones, however even those in their usual flip flops and sandals (you know who you are) were able to make their way up just fine.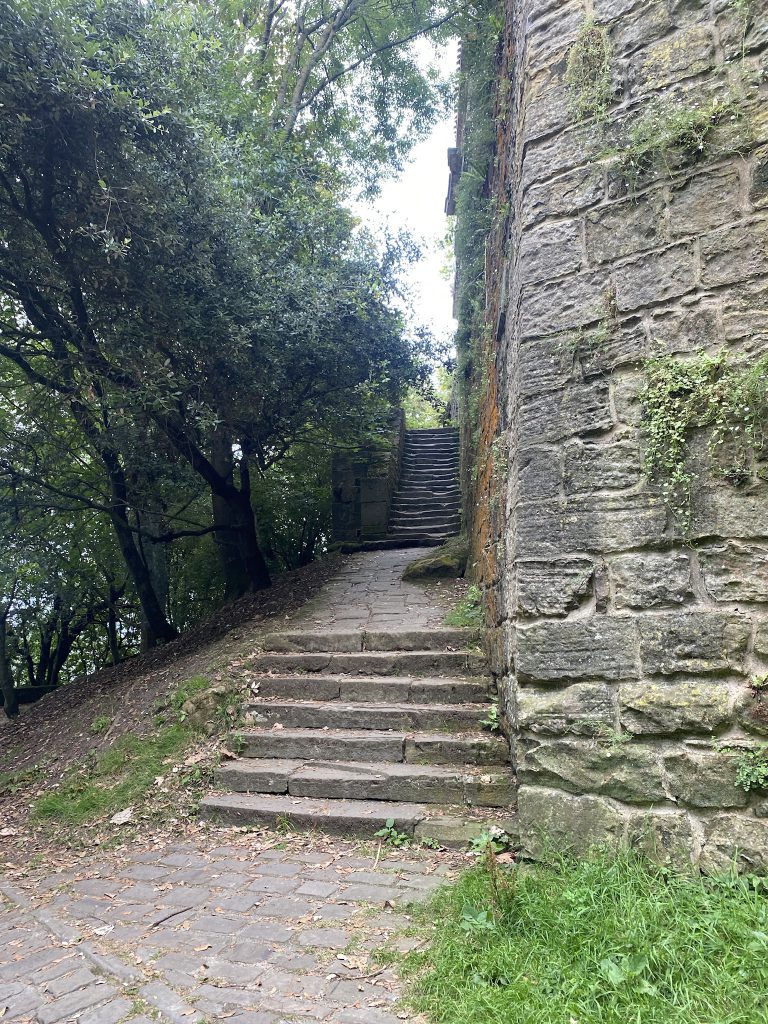 Looking back on the hike, it seems to me that the story of the Basques can be in a way tied to this hill. After being oppressed so much by many different groups of people, the Basques were always able to preserve their one-of-kind language and culture. Though climbing a steep hill is definitely not the same as overcoming hundreds of years of invasions, the incredible views at the top were definitely a reward for the sweaty journey up. About two-thirds the way up we had an incredible view of Playa La Zurriola, as pictured below, and at the top we were about to look out across the whole city, with great images of Playa de La Concha and Mount Iguedo. Today, San Sebastián and the people of this city are able to enjoy their culture without the worry of attackers, and they get to enjoy the unbelievable scenery around them, something I'd definitely consider a bonus.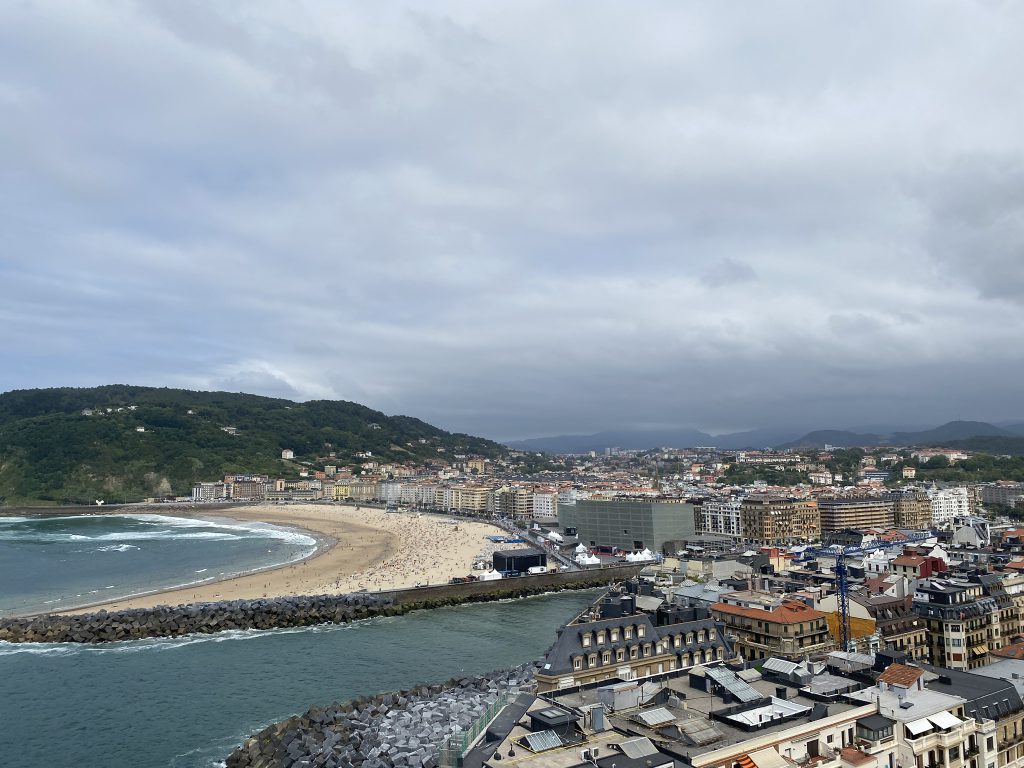 Before we got to the main path though, we had to climb up the crooked stairs, past the many bars and restaurants of the Parte Vieja (Old Town), a place unlike anywhere I'd been before. Given I have never been to Europe before, this part is far beyond what I expected from the streets of a place that is well-known for their bars and food. When I think of a restaurant being crowded, I usually think of every table taken with no seats open at the bar. Here, crowded is being lucky to get into the bar. People are packed so tightly that I wouldn't be surprised if there are more people than square footage of the place.
But I mean, after eating the food, I can't really blame them. You'll know a good place when you see it, as the line will be out the door, crowding up the street. And even still, at the less packed places, you'll find delicious pintxos (small bites, but you can read about that in another blog) made of the freshest ingredients. The stark contrast with the American eating culture is very appealing as well. Unless you get the Menu Del Dia, you'll most likely be hopping from place to place spending just a few euros to get the best mouthfuls of food you've ever had.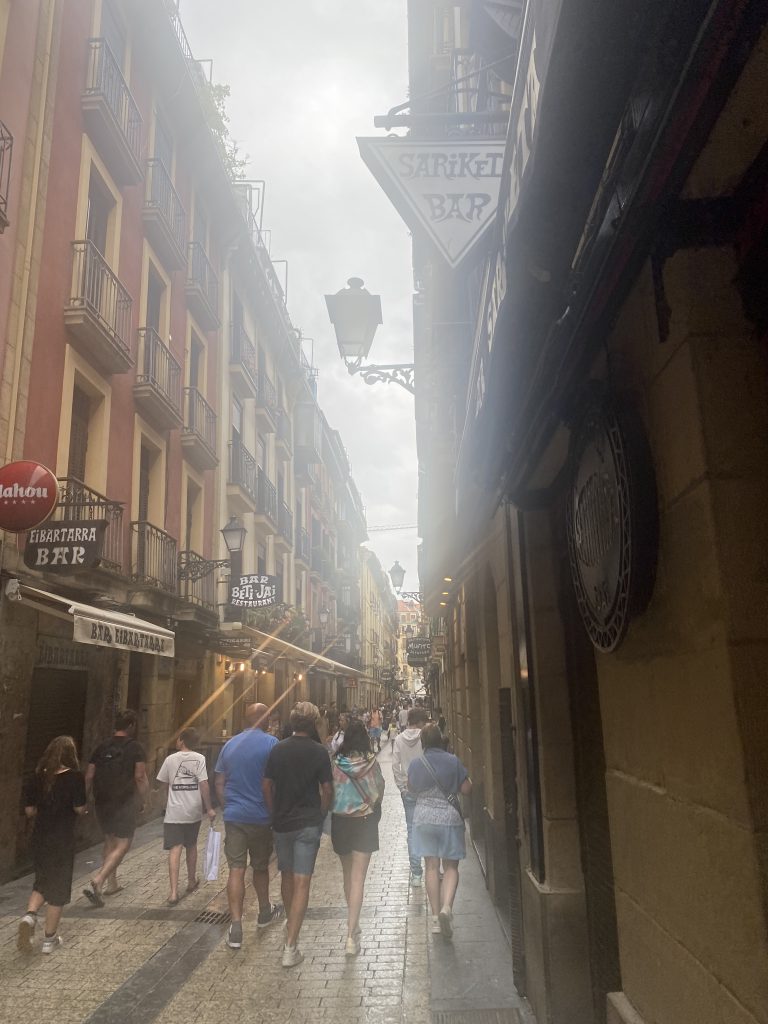 As with everything we have done so far on this trip, quoting Thomas, "Everything is a picture." From the incredible dishes of food, to the views of the bay on our daily bicycle commute to Spanish class, to a picturesque ham shop, everything really does deserve its own highlight. It truly is hard to take in everything around me, and appreciate the flow of the Basque lifestyle, while still getting accustomed. I enjoy not having to eat a meal at a certain time, since I know that there will always be some bar just a block or two down the road that will have pintxos to hold me over until dinner, or to take dinner's place. As of now, half-way through my time here in San Sebastián, I can't really think of anything more I can ask for. This experience is changing my perception of living life each day, giving me new ideas about how to reach that next view at the top of the mountain.