When I applied for the San Sebastian Honors study abroad trip with UML, my objectives were to travel to Europe, see a new country with other students, learn about the culture, and practice Spanish. What I didn´t realize was all the perks that come along with experiencing language school while studying abroad! Here are three perks of studying Spanish while studying abroad in Spain!
1. You're taught by native Spanish-speakers.
No matter what your level, beginner through advanced, you will be taught Spanish by a native of Spain while here at Lacunza. Since I entered this school with some former experience in Spanish, my favorite aspect of having native teachers is that it is possible to get answers to very detailed questions regarding grammar and colloquial speech. For the more beginner learners, this means that your professor will always use Spanish with you, and use English as little as possible in the classroom. This ensures that you get the best instruction possible, and get every question answered! My teachers are native Basques who were born in the Basque country of Spain, and can also teach about the culture of this region, a subject that is best to learn from natives!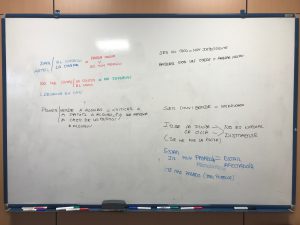 2. You live your homework every day.
Even though you are assigned paper homework by one or both of your teachers to complete for the next day, there are endless opportunities to practice Spanish in between. Many studies on information retention have concluded that memory recall is one of the strongest ways to reinforce that information for long-term memory. If you put yourself up to the challenge, you can recall and reinforce vocabulary, phrases, and mannerisms when ordering food, chatting with your teachers, making conversation with your host family, or even amongst your UML classmates!
3. You're surrounded by like-minded international students.
When you take the entrance exam at the language school, you are placed into a learning bracket with other same-level students that have expressed a similar learning preference as you (grammar, vocabulary, conversation, etc), and most importantly who have come to learn Spanish, just like you! These students come from all over the world to learn Spanish; students in my class of 12 hail from Sweden, Switzerland, Germany, Japan, Korea, China, and the United States–  this makes for an incredible cultural exchange! Additionally, many have similar mindsets and talent/experience when it comes to learning new languages and travelling the world. In a recent class exercise, I and a Chinese classmate discussed our life dreams (deep stuff! ;P), who said she wants to travel the world– and many expressed similar interest!
When I signed up for this three-week study abroad I had no idea about how rich the experience of language school could be! These three perks of Spanish school in Spain were a very nice surprise, and will be a part of my life forever! If this sounds like an experience you´d like to have, make sure the program you´re selecting has a language school component. You won´t be disappointed.
If you talk to a man in a language he understands, that goes to his head. If you talk to him in his language, that goes to his heart.

NELSON MANDELA
The Lacunza Language School of San Sebastian is one school in a network of 20 in Spain, and more than 160 in the world associated with the International House organization. Check out their website for more information!