"Why would you want to spend your twenty first birthday in Spain?" I've been asked about a thousand times. When this question is asked of me I look at the curious mind as if he or she has three heads and answer "Why the heck not!" While it may be a monumental event in some people's lives, turning twenty-one was possibly the least notable part of my day on this 25th of July.
I didn't know what to expect when I woke up this morning because I was out at the bars in Parte Vieja until 3 in the morning as the Basques often are, and I knew I wasn't going to get enough sleep because of that. (Parte Vieja of San Sebastian has more bars per square meter than anywhere else in the world, so it's no wonder why my classmates and I have felt the need to check out so many of them while we're here.) When I did rise and shine, though, around 9 AM, my host mother, Martixu, and my German roommate, Marie, immediately greeted me by singing "Feliz Cumpleanos." This was Reason #1 of why a birthday in Spain at a local family's home is a once-in-a-lifetime, special experience that I am super grateful to have had. Marie surprised me with a slice of cake from a pasteleria that Maritxu recommended to her and she also got me a pretty bracelet because she is a sweetheart and a friend that I know I will keep in touch with after this trip is over.
Even though it's Monday, we did not have school today because it is a holiday in Spain called La Fiesta de Santiago, which celebrates a Spanish military hero. There was a market on the street selling food but not much else was going on except that all the stores were closed. One of our tour guides from a different day, named Unai, joked with me and said that he would speak with Obama and tell him to make the United States have a national holiday on my birthday because Spain did that for me so my own country should, too. I don't disagree.
I spent the next few hours of my day by going on an eight mile run around the city, going out to lunch with Taylor, Mckenna, and Jane, and showing Taylor my favorite spot to stare at the ocean, which is on a stone wall between La Concha and La Ondaretta beaches. Then, Taylor and I went to La Ondaretta beach and we really enjoyed the family environment and the peacefulness of it there.
The next part of my day was above and beyond the highlight. Our class activity was to take a funicular up Monte Igueldo and check out the breathtaking views from the highest and most lovely place in the city that I have visited. From up on this mountain, we could see France and the Pyrenees, as well as the northwest of Spain! There was also an amusement park up there and we got to ride a rollercoaster, a log ride, and take a peak at the interior of the tower I have been gazing up at during this past week.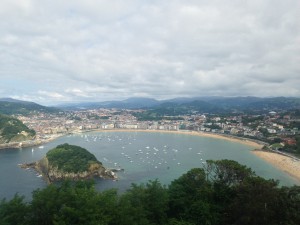 Before venturing into this excursion, my professors Julian and Sean gave me a txapela to wear around all day to signify that I was the birthday girl. A txapela is a type of hat that a txapeldun (champion) wears once he or she has won some kind of competition. In the U.S. we would call this hat a beret or maybe just a goofy cap. I had no shame wearing it though because I am not easily embarrassed and I am also in a place with strangers that will never see me again so I can be as weird as I'd like and there are no consequences! I thought it was really cool that my teachers wanted to make my day feel like it was my day. They bought pastries for everyone and explained that a typical Basque tradition is for the birthday person to treat everyone to food or drinks so we had to pretend that I was the one that purchased them. As if all of the special treats weren't enough, Julian had the entire class sing happy birthday to me in Basque on the front yard of a beachfront palace, so I really did feel like the birthday princess. I could get used to a life like this.