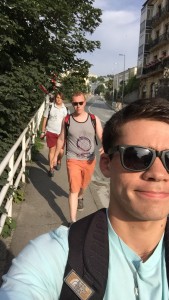 After starting the day in our usual hurry, waking at 7:30 and finally succeeding in showering before our delicious breakfast of bread. Of course, to spice things up, we had strawberry marmalade, instead of last week's apricot. Anyway, after we finished our meal, thanked our Spanish abuela, Leighton, our Swedish housemate Thobias, and our Norwegian housemate Marcus, and I headed out for Lacunza classes at 9:30.
One thing, though: we live on a mountain. In the highest room in the tallest apartment building. The only thing missing is a fictional creature guarding our keep. As the farthest students, we leave about 40 minutes before class to get there on time. Aside from the ocean of sweat that comes from the heat, commute, and humidity, the sights are spectacular. From our room's vantage point, we have an immaculate view of inland San Sebastian.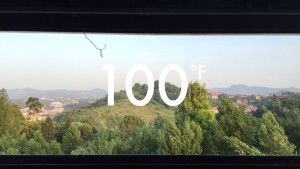 As this was a new week, we started new classes, and after meeting new teachers and classmates, we reviewed our third tense: the future tense. I came into these classes very skeptical, but so far my Spanish has improved immensely. With an emphasis on conversation, Lacunza has prepared us more than I imagined for exploring the city and living in Spain. It has also made dinner conversations with our Spanish abuela much more fruitful.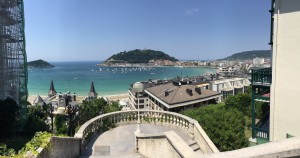 During our 30 minute lunch break,my friends and I tried a bakery near the school. Needless to say, the pastries were delicious.The rest of the daily routine consisted of hunting for lunch, taking a siesta, and prepping for the long awaited mini cruise. Leighton and I took the scenic route, a white staircase that overlooked La Konxta beach and The Bay of Biscay.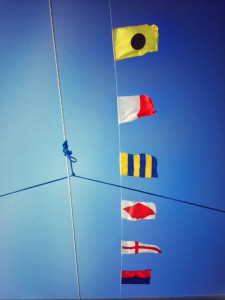 After our fat 3 hour siesta, we set off for food before reconvening with the rest of our class at the boat. So far, finding a place for food has been as easy as finding a dog, and there are plenty of dogs in San Sebastian. Anyway, Leighton and I tried a pinxto place close to us. After finishing some delicious tortilla pinxtos of egg and potato, we met up with the class to board the boat at 5:30.
Until today, my favorite part of the trip was climbing Mount Urgull and seeing the entire city from above. Now, this boat and island excursion set the high bar for the rest of the trip. To get started, the boat was almost entirely us UML students and professors Julian and Sean. As soon as we departed, the boat blasted dance music and the festivities started. The captain took us around to each corner of the Bay and circled the island. The entire ride over was filled with us students taking pictures, dancing, and Basquing in the spectacular new vantage point the boat gave us to admire the beautiful city Donostia.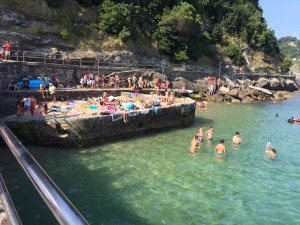 Once we docked at Santa Clara Island, we were again greeted by the cheery and festive spirit of this city. The island was packed with people swimming, playing on the beach, and enjoying the ISLAND BAR. This place really is incredible, but we did not stop for refreshments. Our destination was the top.
As we donned our Honor's polos and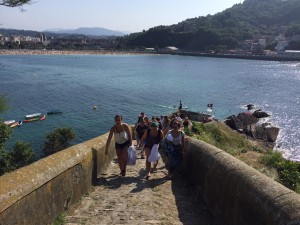 climbed this mini mountain, I could faintly hear Miley Cyrus's "The Climb" echoing through my head  It ain't about how fast we got there, and it ain't about what was waiting on the other side (although the scenery was gorgeous), it's about the climb and the journey we all took to get there together. The 20 strangers that started this trip had now become great friends and traveling companions.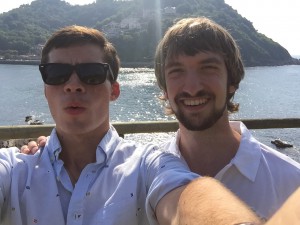 As we all smiled for a charming picture to send back to the fans, we were finally united by these shiny white shirts. Regardless of whatever brought us here as individuals, we are all here together facing struggles and climbs as one unit. This trip has brought us close and allows us to enjoy the incredible moments of this journey together.

Thank you Julian, Sean, the UMass Lowell Honors College, and beautiful San Sebastian for the precious memories and friendships created here.
P.S. you're welcome