Hola amigos!!
A little background about our host family before I tell you about the trip we went on the day after America's Independence Day (aka July 5th)…
Originally, we were placed with an older woman who lived alone. A few weeks later we received an email that our home had been switched with that of Arick and Leighton; however, upon arrival we were delivered to the daughter of the first lady. This lady, whom is known as "Abuela" (like other single hosts), is 81 years old, lives with her friend Ana, and speaks absolutely no English. She is very considerate of our likes and dislikes pertaining to food and speaks slowly to us so that we understand. Ana, who is significantly younger (and in much better health), is constantly around and always escorting us places around town if she happens to be leaving at the same time.
I chose Sunday to blog about because I knew we had the entire day free and I wanted to go exploring, which I assumed would provide plenty of blog-worthy material. When I mentioned this desire at the dinner table, Ana immediately jumped at the opportunity to take us out and suggested the short bus trip to the beautiful coastal town of Biarritz. We had been told that travelling throughout Europe is different than travelling from the US, but Hannah and I were still surprised when no one asked for an ID or passport at the bus station.
Writing that now, though, I remember that Biarritz is part of the Basque Country. Because the Basques want to be an independent country, perhaps travelling within it is a different situation than travelling between Spain and France. A lot of the signs in Biarritz were even in Basque, though I could understand those no more than the ones in French. Luckily, Ana is a native of the Basque country and was able to helps us order our hamburgers and crepes for lunch. This was my first experience with crepes, and the chocolate banana was a good choice. I liked it, but I think I'll be sticking to traditional brownie sundaes for future dessert choices.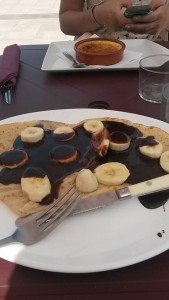 The first thing we did upon arriving was take a few (5 million) pictures of the landscape. I wish my phone and camera had better quality, because the scene was truly spectacular. After walking around like the tourists we are, Hannah and I went shopping…like tourists. Our purchases included France sweatshirts and graphic coasters, along with some over-priced (but French!) clothing. The weather was absolutely perfect, neither too hot nor too cold. I wish we had brought bathing suits to enjoy the beach more, but the weather in San Sebastian Sunday morning was cloudy and we thought it would stay that way. Even without the beach, there was plenty to do.
Though it was Sunday and a lot of stores were closed, there were enough open to entertain us for most of the afternoon. Recycled sail bags, which are very popular amongst boaters like myself, had a line in France! Foolishly thinking they would be reasonably priced, I went in and was disappointed. I did manage to take a tag that said "Sail 727 France" on it, a scrapbook memento to prove I had indeed been in France. Our scenic day ended at a reasonable time, but some British tourists ruined what should have been a perfect outing. Loud and possibly intoxicated, they sang and clapped the whole bus ride home. For those of us that had been walking all day and needed a siesta, their rendition of the Beach Boys' "Barbara Ann" was not appreciated.
Blog on, everybody. It helps with my to-do list for other free afternoons.