Street Art
July 13th
Today we went to the most fabulous area in Paris, the "belle ville!" (beautiful city). We took the metro from "Hôtel de ville" all the way to that beautiful city. The reason why we went to there is because we can see many street arts in that neighborhood. To be honest, I did not expect that much incredible arts down there.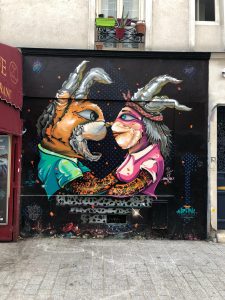 From this picture, we can see that there are two rabbits on the wall. So our guide said it's called "two rabbits," it was created in 2017. This art has not been cover too much as we can see. I have learned that usually street arts will be covered by many other artists in less than two weeks, and you will see a totally different wall. Even though people kept this one intactly, we can still see some small creation beside these rabbits. And yes, the blue and pink dancing ladies were not part of this street art. Furthermore, those tattoos on their arms are also created by other artists.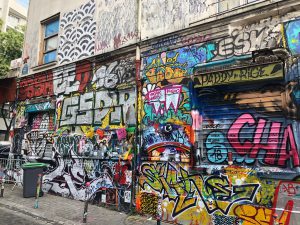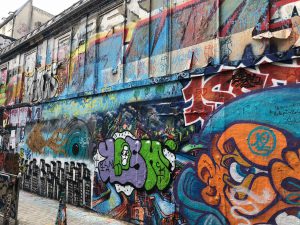 After the two rabbits, we walked into a narrow alley and we saw these two walls. As I mentioned, this is what it looks like when artists' works get covered again and again. If we look closer, we can see that they also painted those poles. This is why they don't seem to violate. Can you see there is actually a door on picture #3? This is called integrity in painting. It means that everything needs to be consistent in one plane. Therefore, they painted the door and it won't open unless someone want to ruin the arts on the wall. So that door might not be open permanently.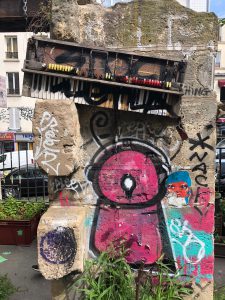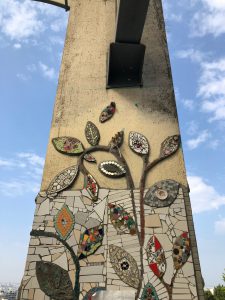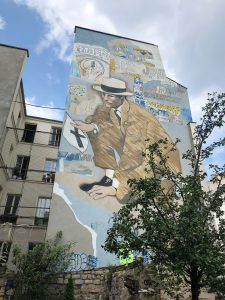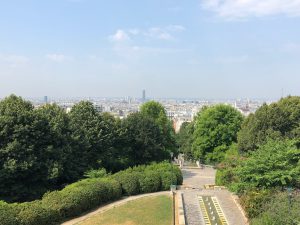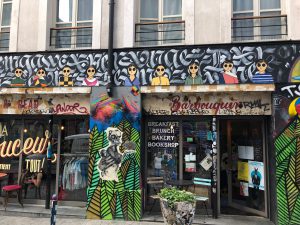 There are a lot of street art in the places we pass by. Before understanding street art, I thought it was just a group of people who were bored and casually painting. But every piece of work has meaning and artist's thoughts in it. For example, those people on the first picture seems died because they have no eye balls, but we can see they are wearing different clothes. What does that mean? This artist wanted to say that even though we want to or try to be a different person from the outside, the society will change us to all the same person from inside. As we can see, many street artists have visualized many conceptual things, so these are much easier for us to understand.
After the street, we went to the top of "Parc de Belleville." I have to say that the view was so beautiful from there. You can overlook the whole view of Paris, just like Montmartre! To be honest, if you do not like crowding and like cats, this place is highly recommended. Besides, you can see some street arts up there, so why not. 
Last but not least, we went to the fancy restaurant called " les baux de Paris" for our last group diner. We had our wonderful last diner with everyone and we also celebrated Jennifer's Birthday there. Everyone was kind of sad since we are leaving Paris. But we all know that we had the best two weeks in La belle ville avec nos professeurs! 
Our trip is coming to the end, I cannot imagine two weeks have passed so fast. We have been to a lot of museums and famous streets and places. The most impressive place for me is Giverny. Because walking in Monet's garden is like walking in a painting. I cannot forget that garden, the lake, la papillons, libellule bleue… All those things are unforgettable. I hope that I will use what I have learned this time when I come to this beautiful city next time!
Au revoir!