Today we started the day by traveling to the Pablo Picasso Museum. Before we even entered we were amazed by the building which had been used for the nobility at the time who wanted to move back into Paris because they were tired of certain rules and regulations they had to follow. These private hotels or small palaces typically had a large wall with big doors that would allow certain people to be brought in on carriages to the courtyard. We talked about how important light became and that is why they had so many windows. People started moving away from dark colors and dark paintings and started using more light colors especially with interiors of these palaces as we talked about later in the museum. Before entering we also learned that this museum was a gift from his family which donated many of his artworks and private collections to help start the museum. At the entrance, we were greeted with a copy of Picasso's Guernica. Picasso is one of the most well-known painters of the 20th century, and his works have gone on to inspire many other artists. The museum held a lot of early sketches of Guernica, detailing the artists, creative process. It was interesting to see Picasso's work process, how he starts off his sketches and ideas and how they grew over time. It was also interesting to see his progression from painting in more classical style, and having really defined subjects of his paintings, to complete abstraction.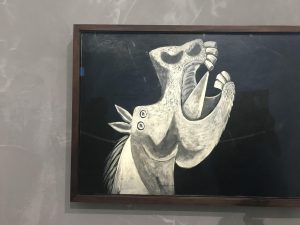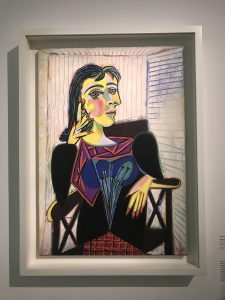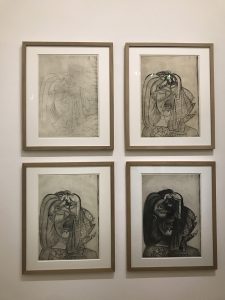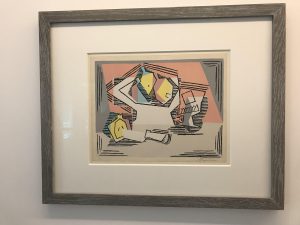 The museum also featured works of other artists who had been inspired by Picasso's work and seeing other artists' rendition and reimaginations of some of his most important pieces. Also seeing where Picasso was from and understanding more about the political climate of Spain at the time, helped me to understand why he spent so much time in Paris and why going back to Spain was not an option for him. The museum also had an exhibit from Diego Giacometti, who was an expert of decorative ironwork. We talked about how sometimes, what some refer to as the "minor arts" do not get the same appreciation as paintings and sculptures, etc. Giacometti's work was beautiful, and it was nice to see a museum where art like that could be given a major spotlight. After the museum, a small group of us found a restaurant called the Wild Moon and Bar where there were interesting drinks and foods to choose from. It was definitely a very "hipster" establishment, but the wait staff was very helpful and helped us to choose what we wanted to eat. It was not the typical Parisian lunch, but it was something I had never experienced before so it was good nonetheless! Later that day, Aidan and I went to the bookstore and I got the book series, Caroline. Caroline is a very famous French children's series. As a French major, I am really interested in all things that concern the French language, and children's books are still a great way to introduce yourself to the language and start to understand a little bit more about the language. My mother really likes books in general, so I thought it would be nice to bring back a children's book in French.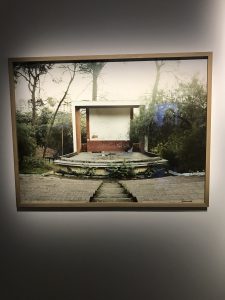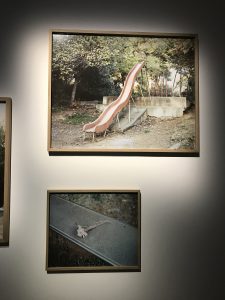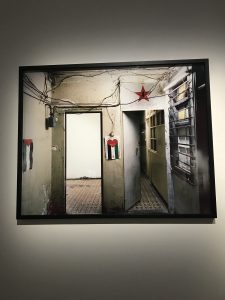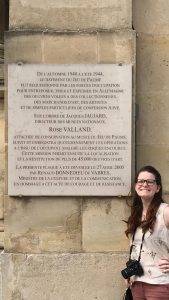 After that, Aidan and I traveled the Jeu de Paume, where there a few different exhibits going on. I was really interested in this building because of the World War II, French Resistance heroine, Rose Valland. Rose Valland worked at the Jeu de Paume during the Second World War, and when the Nazis had taken control of Paris, they would sort all of the stolen art from all around Europe, and from the Louvre, through the Jeu de Paume. The Nazis did not know that Rose Valland could speak and understand German, so she secretly spied on them and would remember during her days working there where all the major art pieces were being shipped to. When she got home at night, she kept a journal, tracking every single painting that she had been aware of, and when the war was over, she revealed her notebook to the Allies, and much of the stolen art was recovered swiftly. If it were not for her, who knows how long it might have taken to successfully recover many of the lost pieces. I was disappointed that the museum itself did not have a statue or room dedicated to her, but they did have a plaque on the outside of the building to commemorate her heroics. While there, the only thing I could purchase for myself about her was another children's book about her. At the museum itself, there were a few different exhibitions, but one that I really enjoyed was of a photographer who explored the catacombs of Paris and the "restricted areas" underground to see what was still down there. It was a cool exhibit, and I thought the Jeu de Paume was once again another great museum, and well worth it to visit.