On the Fourth of July, we took a trip to the Palais Royal. Located in the 1st arrondissement of Paris, the Palace was home to the Queen of France and wife of King Louis XIII, Anne of Austria, mother to King Louis the XIV. Today the Palais Royal features a courtyard with these long black and white columns. You are allowed to climb them and they were very interesting. When you walk around the Palais today, underneath are lots of shops, and while they are very expensive, they hold very unique and cool items that really you could only find here. These shopping arcades were introduced during the 18th century, and really became the center of Parisian life. Walking around, it is very cool how the arcades are very small, but back in their time of introduction they allowed Parisians a way to browse and look at items without getting their shoes and dressed muddy because the arcades themselves were covered and paved.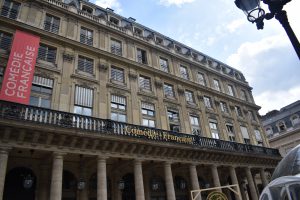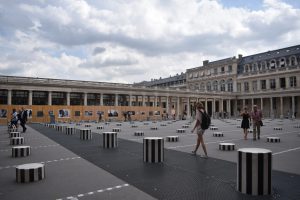 We ate at the Victoria Station Restaurant which was very cool and designed like an old train car! The food was delicious and we moved on to the "Galeries Lafayette", the department stores in Paris that date back to the late 19th, early 20th century. These department stores were very luxurious and had shopping brands like Louis Vuitton and Cartier among others, but what was honestly really impressive about them were the stained glass domes that were on top of the department stores. The first one we saw was in the Galeries Lafayette, right in the middle so that when you are shopping and you look up, you see this glorious stained glass dome. This brought about the conversation and the idea that at this point in time, capitalism and architecture were becoming intertwined, and the idea that if you can build a store so that people want to be there, they will spend more. It did certainly make me feel like I was in a "paradise" of some sort and being almost overwhelmed with the "luxury" of the experience. The second stained glass dome we saw was now in a restaurant.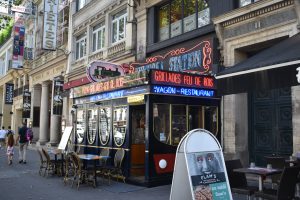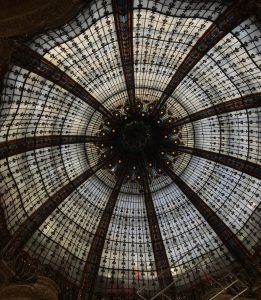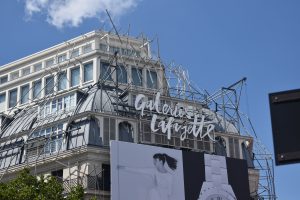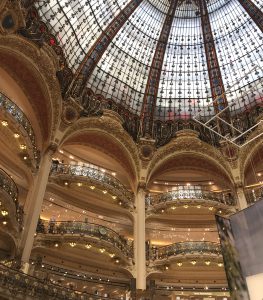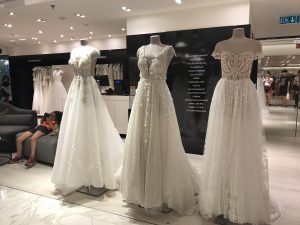 Throughout the day something that really stuck with me was the idea that the French actually preserve their culture. They actually tax people in order to maintain statues and monuments and buildings, but all in the name of building and preserving a cultural identity. The French really will just let a building sit there for awhile until someone comes up with an idea of what to do with it. After the French Revolution of 1789, the government took all of the royal belongings and made them publicly owned. They did not tear them down and build something new, they decided to repurpose them and preserve the old buildings and their beauty. This is something that I wish were true in the United States and it is unfortunate that in many cases I could envision in the United States a building being torn down to make a skyscraper or to just simply accommodate for more people. The French take their culture very seriously, and I have so far enjoyed the days we spend looking at and walking through these old buildings because it is just not something we can experience back home in the United States to the extent that I have been able to here in France. After that, we stayed in the area and went shopping in a store that had three floors and was like a department store aimed towards young adults. There were kids playing FIFA on an Xbox and games going on, as well as many department stores outlets like Nike, Adidas, Le Coq Sportif, and much more. The store was somewhat geared towards sports but also just had regular clothing brands, and not ones you really see back home in the United States, so it was definitely a cool experience! After that, I headed home and we ate dinner pretty late, around 9:50 and I talked with Veronique, my host mother, until midnight! For dinner, we had meat and rice and for dessert, strawberries and yogurt. It has been difficult to get used to how late the French eat but I have very much enjoyed the conversations and the experience nonetheless. At home, we usually eat at 5 and dinners are short, so these longer dinners are definitely something different for me. Because I was alone with my host mother, I was able to practice my French more and when she needed help translating French to English I helped her and when I needed help remembering french words she helped me! The dinners that we have had, even though they happen very late, are one of my favorite parts of the day because I get to learn about life in France in a very personal way.