On the first day, we had to go to the ISA office to have an orientation to the culture of Paris and general information about the ISA program. While on the way to the ISA office we ran into trouble when Aditi's Navigo card stopped working. We had later found out that if you tap the card twice it will not let you in because it thinks you are handing your card back to someone else. After we finally got past the turnstiles, we took the train for about 8 stops before we got off to walk to ISA. On the walk, we had seen the beautiful Notre Dame cathedral which was absolutely breathtaking. While at ISA, we learned many important cultural things and a little bit about "street smarts" in Paris. We learned of the different tactics that many pickpockets and thieves use and how to steer clear of them.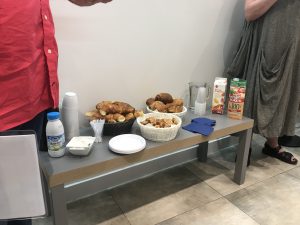 After our orientation, some students went to buy sim cards while others went to lunch. I went to lunch with Aidan at the Café Panis. Once we sat down we ordered an omelet and a croque monsieur, which was something I had been dying to try since I had first learned about it in my high school French class. Once we got our food a song my French teacher in high school always used to play for us came on. The song is called Elle m'a dit by Mika. After our lunch, we had a tarte fine aux pommes with vanilla ice cream. The food is very good here and everything has a stronger taste. Even the bread has a much better taste that seems to be just stronger and better. After our small lunch, we walked around Notre Dame cathedral which was ginormous! There we saw French military personnel carrying machine guns which is very different from how it is in the United States. There we also saw our first pickpocket who was trying to have people sign petitions to be distracted while someone else goes through your purse. After that, we walked back to the ISA to meet up with the rest of the group.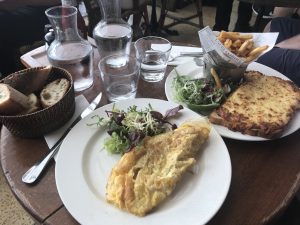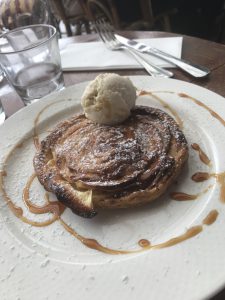 Once we were all together we walked down the Seine River to where the Musée du Louvre is and L'Orangerie. There we saw Monet's Les Nymphéas, a collection of Monet paintings that are of his flower garden at his home in Giverny. The four panels we saw in the main room were these huge paintings that wrapped around the oval shaped room it was in. There we learned that the name of the museum is L'Orangerie because that was the old storing place for the orange trees when it was too cold outside at the palace during the winter. While we were there we talked about the impressionist movement, Monet, Renoir, and we looked around and saw the paintings of other impressionist artists and others, including some works done by Pablo Picasso. I bought two French books at the gift shop Madeline and Le Petit Prince.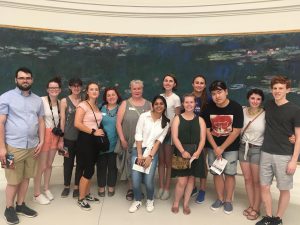 After we walked back to the ISA office and then to our dinner which was at le Montebello. There, we had a menu we could chose off of for un entrée (appetizer), I chose the salad. Un Plat (American's "entrée") I got the beef stew, and un dessert (dessert), I got the sorbet. The food was amazing! There we spent a lot of time talking about various topics such as LSU, GMOs, and Quasimodo of Notre Dame.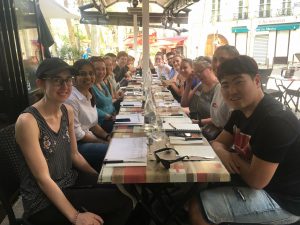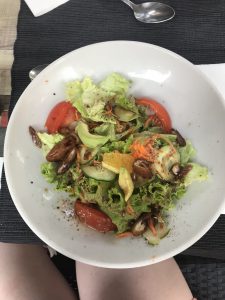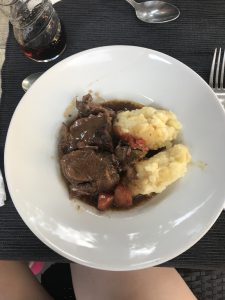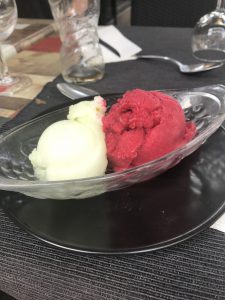 After we ate a small group of us decided to go to the Eiffel tower and Le Champs de Mars. To get there we took the RER train. Once we got off the stop we went through security to be under the Eiffel tower. After a lot of looking around, we had to exit the fenced in area to reach Le Champs de Mars which is a long patch of grass in front of the Eiffel Tower. We took lots of pictures and, unfortunately, Caroline sat on a bee and it stung her. We stayed for a while until the lights turned on and eventually took the RER train and then the metro back home.