The day of the departure was full of many different surprises. Because it was my brother's birthday, my family spent time together eating cake and opening presents to celebrate. After our festivities, I said goodbye to my sisters and hopped into my dad's car where my mom, dad, and little brother would take me and my friend Aidan to the airport. The drive into Boston took no time and getting to the correct terminal was smooth sailing. Once we hugged and said our final goodbyes, both Aidan and I walked into Logan Airport where we waited to bring our checked luggage to the employees and receive our boarding passes. Once we were finally called up, we were told our connecting flight was canceled! We panicked as they told us we would have to spend a day in Iceland because they had no flight to put us on. Finally, after some time, they finally found a flight that we were able to be put on. Part of this whole experience is to not only learn about French and Parisian culture but also to learn how to travel by ourselves. Once we got to our gate to wait for our flight, we met up with Zoe and Jenny who also had the same problem of a canceled flight with no notification ahead of time. We talked for a while about our excitement for the trip and the things we were most excited to see. After some time had passed, Dr. Salmon met up with us and joined our conversation. We talked about how France is in the World Cup and how it is very exciting that they won yesterday, defeating Argentina 4-3. The next game is Friday night and we started discussing the best places to watch the game. We also talked about our Navigo card which is our card for the metro station in France.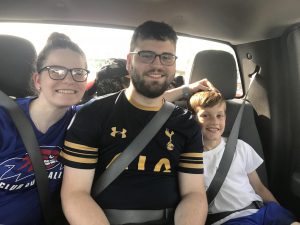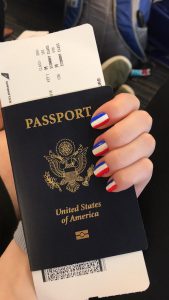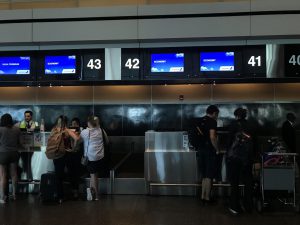 After we boarded our flight, I realized it was the quickest I had ever boarded a plane, and we took off in no time. They gave us complimentary waters and blankets. Because we left late at night, we were able to see the sunset behind the Boston skyline and due to the darkness, we were able to see major cities along the way into the air in the New England area.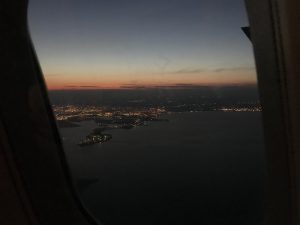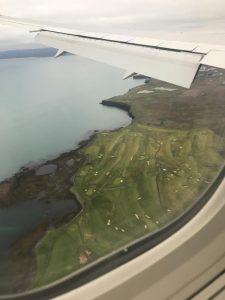 My favorite part about being on flights is watching the GPS of where the plane is along with looking out the window to see what everything looks like. Once we arrived in Iceland, we waited to meet up as a group again before we would take our connecting flight. I made sure to get a few small souvenirs from the Icelandic airport to remember the beauty of Iceland by. After we met as a group and were waiting for our next flight, Dr. Cadero Gillette, who we had met up with, gave us a brief art history lesson talking about some of the things we would see on the trip along with stories about Raphael and Michelangelo and her feelings towards Raphael. We boarded our plane again which took a while to take off.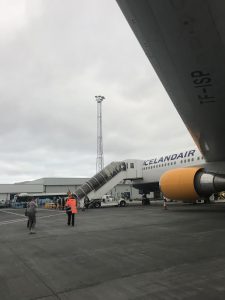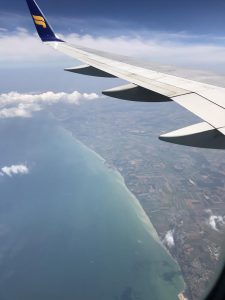 It was really cool when we flew over France because I was able to see the shoreline and see how different the land and the houses looked from different cities. We waited for our luggage and met with the ISA worker.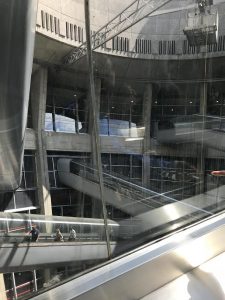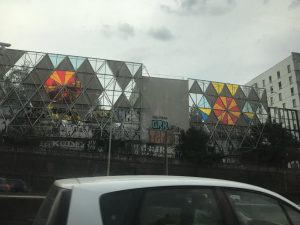 After we found our ride, took a big van back to our homestays. The highways looked very similar and reminded me of what the drive to NYC looks like. When we first were driving in we drove past a very large soccer stadium which you don't see many of in the United States. Many of the cars looked the same but there was a very common brand that I had never seen before which was called Peugeot. It was also funny hearing popular American songs on the radio. We met our homestay family and they were very nice and welcoming. Although I was extremely exhausted I was able to stay awake until dinner which we ate around 9pm. We ate hamburgers with vegetables followed by cheese, yogurt, and fruit. After we finished our dinner we all sat together to watch the World Cup. Although the day was very long with canceled flights, layovers, and lack of sleep I am extremely excited that we are in France and cannot wait to see all the amazing sights we have planned on our trip!