By Zack, Erin B., Michelle, Dan, and Katrina
When we started this trip, we were leaping into the unknown. None of us knew each other, some of us had never been to Paris before, not everyone spoke French, and not all of us knew the professors.  But over the course of 18 days the unknown became more familiar.  We did not just learn new things about the city and Parisian culture, we also learned a lot about each other. We all came from different backgrounds, majors, family dynamics, towns, and were a diverse age group. The only thing we had in common was our three week trip to Paris. From sharing meals to traversing the city together, we grew closer, forming bonds that will last much longer than the short amount of time we spent here.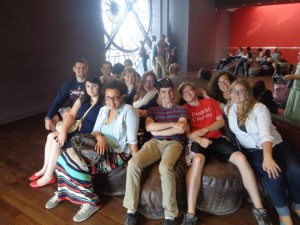 It all started hanging out on the lawn behind the International House at the Cite U.  We would lay out on blankets and talk until the late hours of the night.  From there we only grew closer through our long walks across Paris, crowded metro rides and our much needed extended lunches.  We quickly found that the students who just days ago were strangers were now some of our closest friends.  Even when we split up into smaller groups, we were never disappointed with who we ended up with.  We bonded over trying Turkish street food and a variety of different cafes. Most of all, we looked forward to eating dinner together as a whole group to share the day's experiences.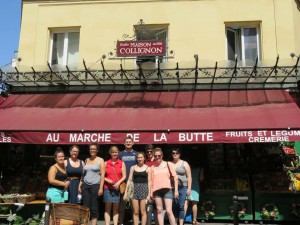 It didn't take long for us to start planning our reunions in the US.  Despite coming from different backgrounds, we shared new experiences and formed a group idea about the city of Paris.  If any of us ever make it back to Paris, it'll never be as sweet as this trip when we were all together.  We miss our families back at home, but going home means we'll miss our UML in Paris family.
We started off as ten strangers but left as ten friends.