Jaime Breingan          07/02/14  Wednesday                    Blog entry #1
I've found an immensely new found appreciation for architecture.  Yes, yes, you see or walk into a building – big deal, right?  But have you ever walked into a building and just thought to yourself; "Wow this is beautiful" – and you do not quite know what exactly is beautiful, but you feel comfortable and at peace.
Today, we took a tour of the Cité Universitaire (our dorm mini city area in southern Paris). My favorite house was the Maison de Suisse.   This dorm was created in 1933 by "Le corbusier" also known as "le corbu".  He had a choice to design this dorm that would represent his country in a traditional way, or in a modern way. This architect chose to  create a very modern styled building that worked with the sun pattern to create a naturally cool element with the perfect amount of sunlight in every area.  The building angle along with the window styles and types all helped create an illuminated building, without the heat that normally comes along with it.
He also used an dual usage/open concept style in which he would separate the rooms with either furniture or open windows in which everything flows wonderfully.  The front left side where the natural stone wall is there to create a natural elements.  The right side is to reflect a more serious industrial/business style.  These two conflicting styles were put together in this particular building to demonstrate the importance of work and play as a student.  It is important to be in touch with nature and enjoy life, as well as work hard and be able to focus on your work.
I feel so lucky to be able to walk into a beautifully constructed building and feel overwhelmed in awh, and then be able to be told by a professional architect exactly what it is about the building that is moving me.
(Live here if you have an opportunity to! As professor Cadero-Gillette mentioned, "Fear stops us from experiencing life.")
This was the most beautiful building that I have seen thus far.. and we haven't even left campus yet!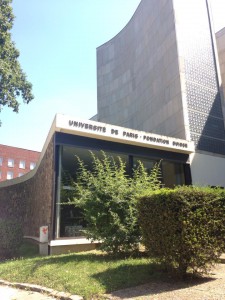 P.S.  I won the word of the day!! "Bienvenue" = "Welcome"