Today was the day that it really sank in, we are here in Paris!
We took an open bus tour around Paris to get ourselves acquainted with the city and our surroundings.
Rowdy came along for our tour.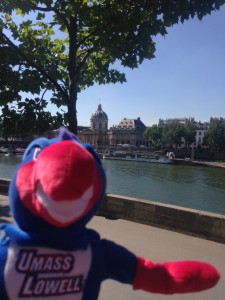 Rowdy is in front of the French University, this is where the French dictionary is made and maintained. It has a council that meets to discuss the words in the dictionary and the membership is for life. The are known as "the immortals".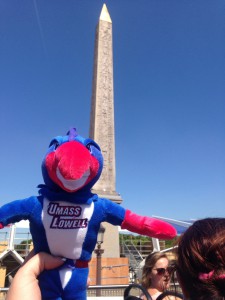 This monument that Rowdy is posing in front of was made in Egypt but was stolen by Napoleon. It was brought to Paris by a team of elephants! if you look closely you can see the hieroglyphs craved into the sides.
Our next stop was l'arc de Triomphe. Unfortunately I could not (safely) snap a picture of Rowdy here because if you think driving in Massachusetts is crazy then you have not been to Paris. It is a giant rotary but with no lines on the pavement and lots and lots of cars, trucks, buses and mo-peds everywhere!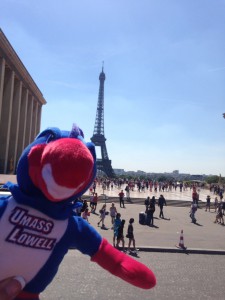 We didn't get to go up La tour Effiel yet but Rowdy got to take his picture with it.
We had lunch in the latin quater where we discovered that the french love to talk about love and politics. On our way back to the Cite Universitaire we stopped at a cafe to have a cold drink, people watch and discuss the differences we have already noticed between American and French culture. On our return journey on our metro line the RER we were all crammed into the subway cars. In America it is acceptable to look around at people and too make eye contact with other people, in France that is rude. I never noticed before how much eye contact I usually make with strangers instead of saying hello, or bonjour in Paris.
We completed our day by watching the film, Paris, Je t'aime, which is 20 short films about the 20 arrondisments of Paris. They all had common themes of love, communication, compassion and loss. It was the perfect way to end our day of just a taste of Paris.