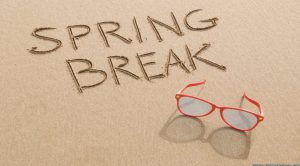 Planning Spring Break
With the semester in full swing, Spring Break is probably the last thing on your mind right now. Breaks are pretty much relaxing whether if you are looking to visit places or even just planning to visit home. Now is the time when you can start planning for the Spring breaks.
So here are our small tips for planning your Spring Break vacay:
1. Discuss with your Friends or Family
Whether you are looking to go away or planning on staying home, communicate with your friends and family to let them know where you are thinking of going or include them in the planning process.
If you are planning to go away, answer the following questions for yourself:
Where would you like to go?
Can you afford it or not?
Will you drive or fly?
Are there any discounts you can take advantage of such as group discounts.
If you are planning to stay home, try planning one day trips, or go shopping.
2. Start Saving and Book
If you are planning to go away from your house, try to search for best flight and hotel deals online. Listed below are the sites where you can find the cheapest flight and hotel deals
Start planning your budget on how much you will be spending on food, drinks, as well as living and travel expenses. This will help you to keep track of your money and will give you an idea whether you need to cut back and prioritize. Remember to try and find all-inclusive trips to help save money on food, drinks and travelling expenses.
If you are planning to stay home, you will be thinking you can go on shopping sprees since you are saving on travel expenses. Right? However, we all know a trip to Target and CVS can end up being just as expensive as a trip to Punta Cana.
Let us know in the comment section below how you are planning to spend your Spring Break!