Hi guys! It's Cynthia. So this is my first post because this semester has been crazy. As an engineer, sophmore year marks the begining of official engineering courses: so that means lab reports, lab reports, lab reports! Fun stuff!
So for all of you out there thinking that classes are easy, and you have no problem with calculus, chemistry, or physics, don't worry, it will get challenging soon enough!
The most important thing though is to know when to work and when you're too stressed to work. It's not healthy to work every hour of every day. A great distraction for me is the UML Hockey games! This weekend your Riverhawks won both games at home! Exciting I know!
First was Colgate, Division 1 in the ECAC. It was a close game, but no worries, the Riverhawks took the game 5-3! 🙂 Saturday we took on Northeastern, and again prevailed 3-1. It was obvious that the Huskies were still a little bitter because the Riverhawks took their expected place in the Hockey East Championship Game last year.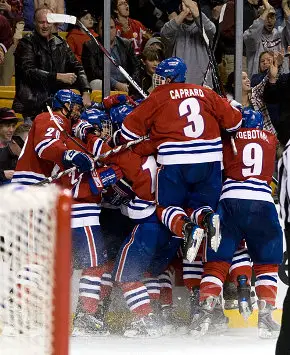 But that's it for me for now! Back to lab reports….you should do the same 😉