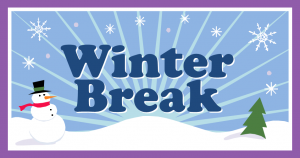 As finals week is coming to a close, it's hard to think another semester has come and gone so quickly. Even though many of us, myself included, are still working hard to finish out our last finals, we need to all breathe a sigh of relief because winter break is coming!!
We are very lucky at UMass Lowell because our time off for Winter Break is over a month long. That means we will have a lot of free time that we're not used to during the school year. In order to make the best of your winter break, take a look at a few of these suggestions…
1. Make a list of everything you want to accomplish over break
At the start of break, it may seem like you have all the time in the world (it is a WHOLE month after all), but with the holidays coming up and all the time spent sleeping in, those days go by fast. Making a list allows you to see the goals you want to accomplish, so you don't come back to school feeling overwhelmed by things you didn't do over break.
2. Make time for family and friends
This one may seem like a no brainer for some of us, but it can be tough with busy schedules to spend time with everyone you'd like to. Plan to get coffee with old friends or spend time doing some Christmas baking with family. Making plans at the start of break, or even before you come home, is your best bet so you can be sure to catch up with everyone on your list!
3. Sleep!!
One of the most rewarding part of break, especially after a particularly tough finals week, is being able to jump into bed and catch up on those long lost hours of sleep. After having an 8am two times a week, I am going to be thrilled to have a few extra hours of sleep every night!
Good luck on the rest of your finals, everyone!
Disclaimer: This post reflects the thoughts and ideas of the author and the author alone.