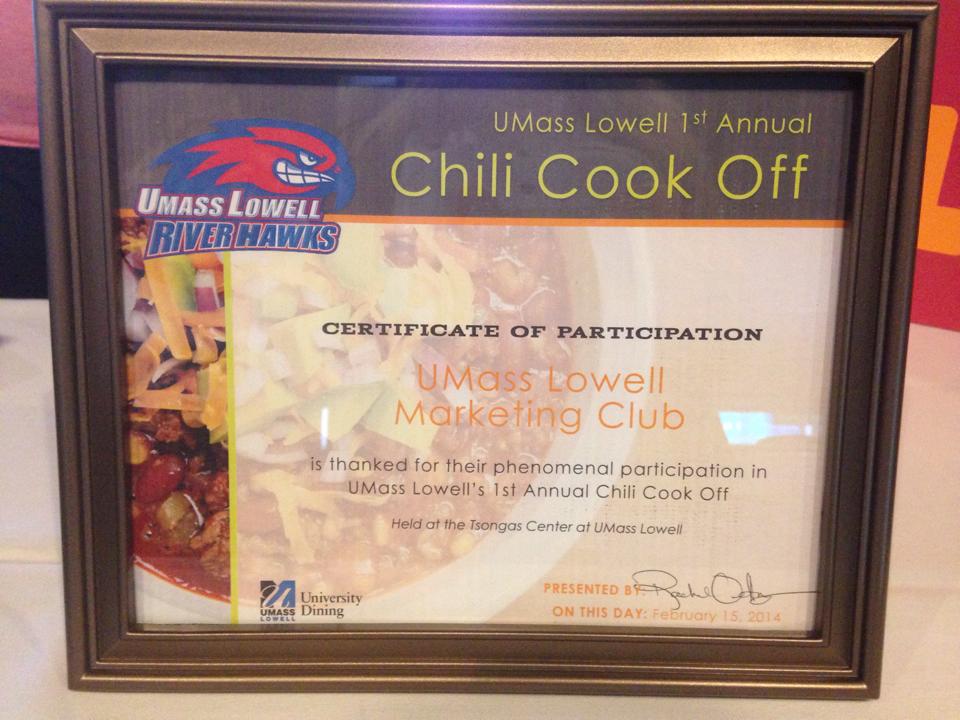 The UMass Lowell Marketing Club participated in UMass Lowell's First Annual Chili Cook Off yesterday, Saturday, February 15th.
The Chili Cook Off took place during the women's and men's basketball double header against StonyBrook at the Tsongas Center. Competitors included UMass Lowell clubs, faculty, departments, student groups, and Lowell based businesses/organizations. Attendees were given the opportunity to try all of the chili recipes and vote on their top three favorites. At the end of the basketball game, five judges voted on the texture, flavor, consistency, spice, taste, aroma, and color.
The team who received the highest score from the judges, which was the Hawk's Nest on South Campus, was named "Chili Cook Off Champion". The team who earned the highest score from the attendees received "People's Choice" which was the Inn and Conference Center. Although the Marketing Club didn't win either of those awards, their chili recipe will be served as a special at Hawk's Nest South because the judges still enjoyed it.
Six teams participated in the Cook Off, and the Marketing Club was the solo student group. Next year, your club can be the winner of the Second Annual Chili Cook Off! Keep your eye out for opportunities for you clubs.
If you are interested in becoming a member of the Marketing Club, feel free to contact them through email at: umlmarketingclub@gmail.com. If you want to learn more about student events and activities, contact Student Activities here: http://www.uml.edu/student-services/student-activities/.