I have seen many different sports in my life and they were all interesting in their own way. The feeling of cheering with the crowd in any sport is one like no other. You can always feel the energy, and the excitement that the crowd brings, as well as the people performing give to everyone. I feel like I always end up finding myself becoming interested in all of the sports and events that this world has to offer, and I can never get over it, especially seeing how others react to their favorite sport. That's why going to one of the most prestigious bullfighting arenas was so fascinating to me. Even if I may not agree with every aspect about bullfighting itself, I will find interest in how amazing the stadium itself looked, how important it is to the people of Spain, Portugal, France, and all around Europe.
We started the day off by taking the metro to La Plaza de Toros de Las Ventas, and from the second we entered the metro you notice the difference in cultures from the people there. From the difference in style that everyone is wearing, which in my opinion is really unique and beautiful, to the people who are playing music with their guitars and different instruments on the metro which has a very delightful rhythm to it.
Once we got to La Plaza de Toros de Las Ventas you instantly noticed the architecture of the place and I automatically began to wonder how long it took to complete and how difficult it was to build. The tour guide, who's name was Raul, was very funny and interesting which made the tour much more entertaining. He told us that the architecture of the building had a mixture Catholic and Muslim art style which was very interesting to observe. It was built in 1922 and it was fully introduced in 1931, which was a big reason of why the architecture had a mixture of both Catholic and Muslim style to it because it has styles that have been previously used in other famous buildings and bullrings throughout Spain. Further into the tour we began seeing the different bulls that have been taxidermied that were examples of what the "perfecting fighting bulls" were in the eyes of the bullfighting aspect. Raul explained that the bulls need to be aggressive, have high stamina, strength, and need to be in between 460 kg (881.8 lbs) to 600 kg (1322.7 lbs). After this part we went to the stands where we can see the entire stadium as a whole which was something that I never thought that I would have the chance to experience. We also had the chance to go to the ground level of the stadium which felt like such a surreal moment when I first saw it.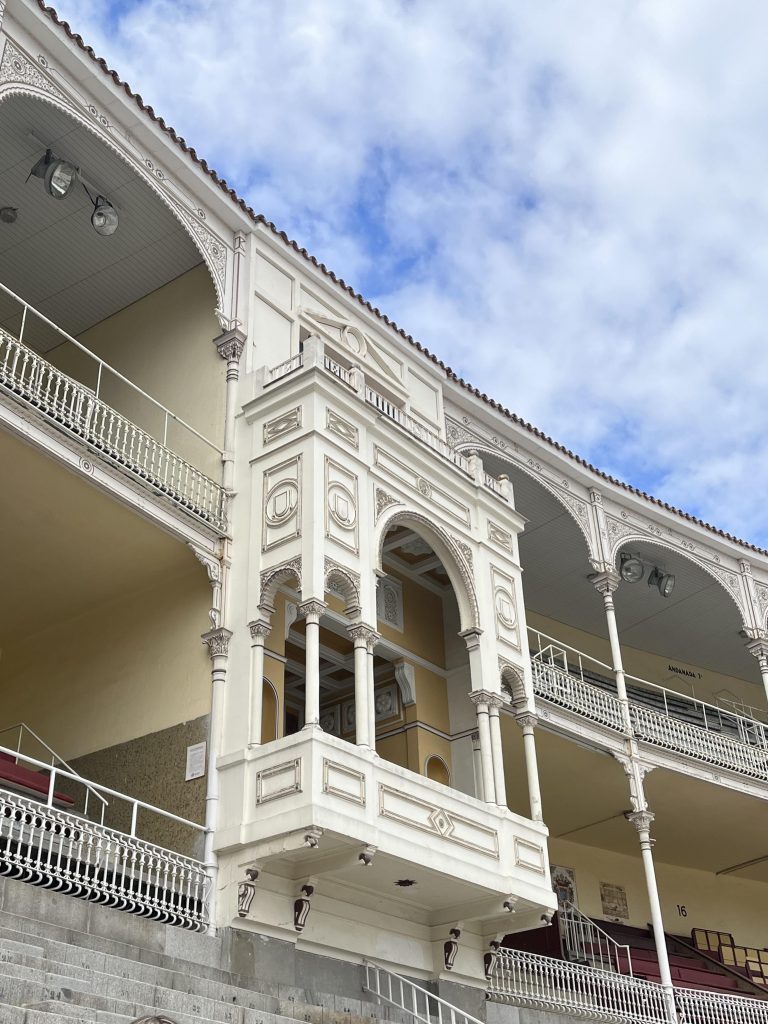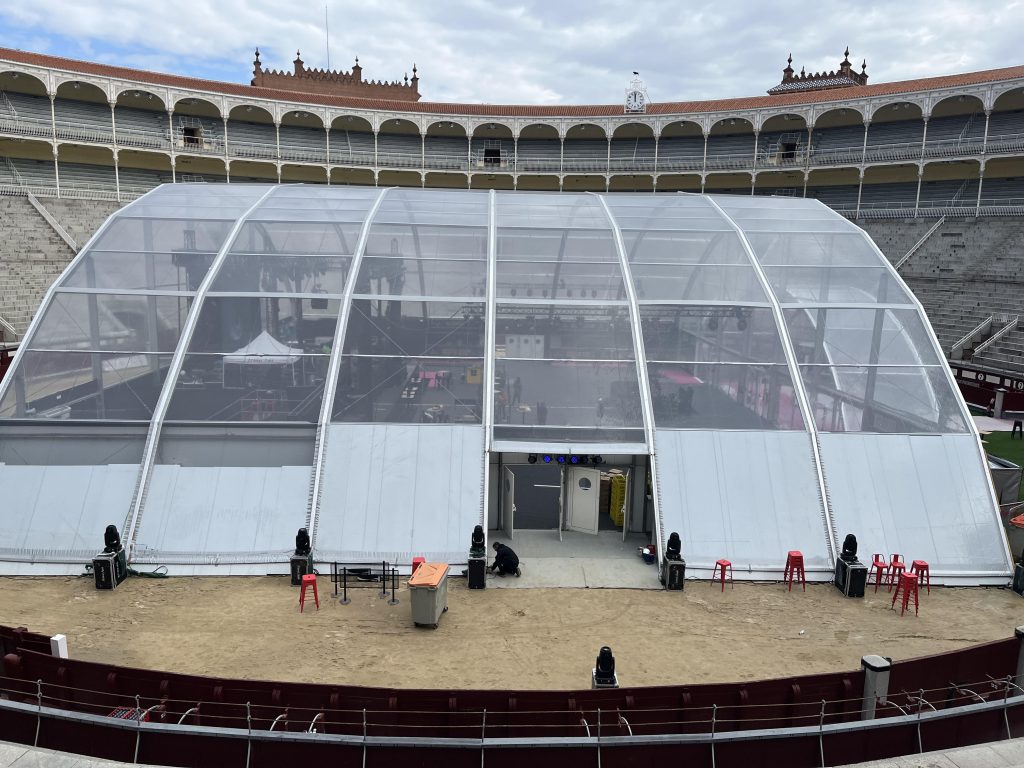 Museo Taurino de Madrid
After the tour of the stadium itself we went to the Museo Taurino de Madrid which gave us a lot of information on the history of bullfighting and La Plaza de Toros de Las Ventas. We had the chance to learn about Manuel Rodriguez "Manolete" and Antonio Bienvenida who were known as the "Batman" and "Superman" of the bullfighting world because of how good they were, and how big of an influence they had on the bullfighting world. As well as all of the people who had huge milestones for bullfighting as a whole. For instance, Juantia Cruz was the pioneer for women to become official bullfighters. She wasn't allowed to become one at first for many made-up reasons by the president, but after she continued to pursue her dreams, and trained other women who wanted to become bullfighters, she made it so that others like her would be able to do what they want to do.
La Buha
Following the tour, a couple of us decided that we wanted to get some food in the city and explore for a little bit. We ended up going to a restaurant that was close to La Rastra which was called Taberna La Buha and the area it was located in had an amazing atmosphere to it. The music that was being played in the restaurant was very hip music that everyone could recognize and enjoy, even if it was in English or spanish.  The menu had a variety of tortillas to choose from that had an option for everyone to choose from. But the interesting part to me is that there's a normal tortilla to share with everyone at the table, and a mini tortilli which sounds very deceiving from the name that it is given because it is the opposite of that.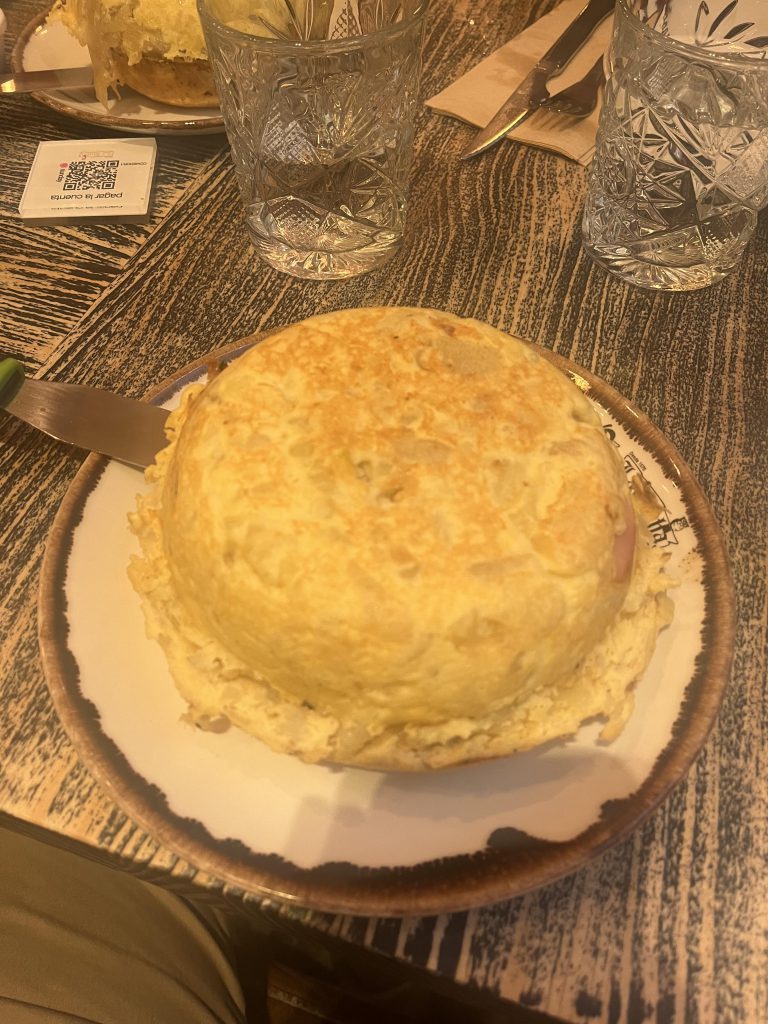 El Corte Inglés
After getting dinner we went to go buy some clothes (which ended up not having any that we were looking for) at El Corte Ingles which has 9 floors with many different options on each one. You can find everything there from furniture to electronics and it also has a beautiful view of the whole city on the top floor where you can enjoy the many options of food that they have to offer, or even if you just would like to relax and have a drink. That's where we ended up going to see the beautiful view that it has to offer as the sunsets once we found out that there aren't that many clothes to buy there.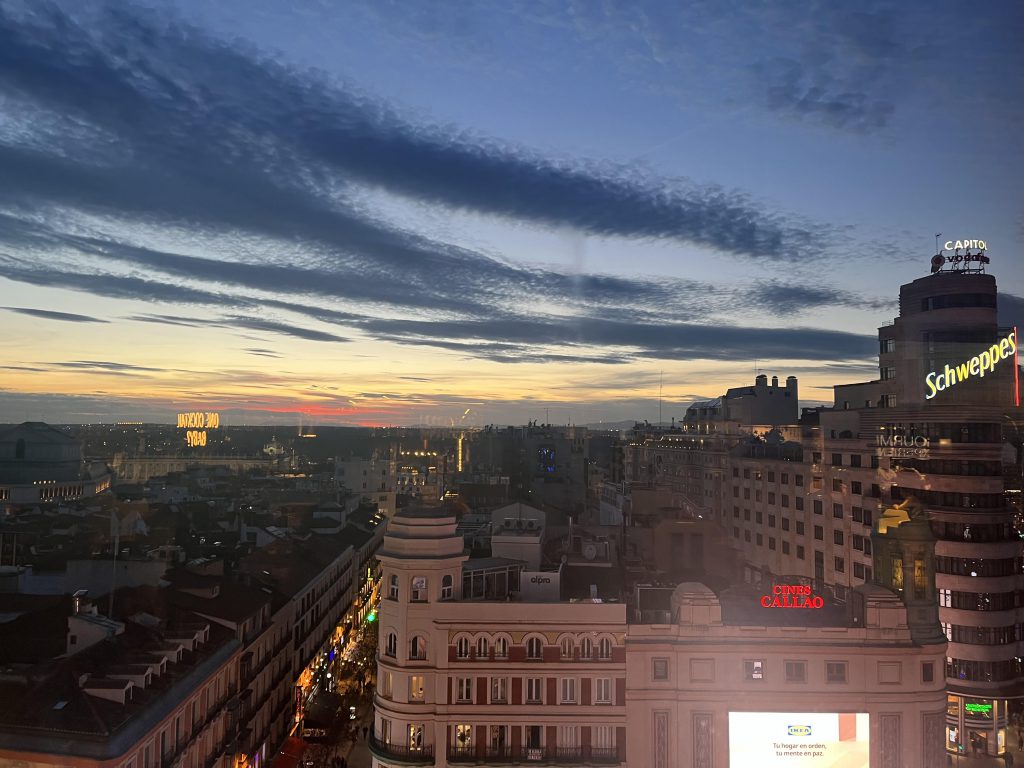 Doña luz
Later that night we met up with the rest of the people who came on the trip with me to a rooftop restaurant that someone suggested that we should all go too. There was a variety of good food and enjoyable music from all types of genres and eras. Going on this trip I didn't know what to expect because it was my first time going to a new country, and going with a bunch of people who I didn't know did not make it any better. But I feel like I got close with everyone here and made some really good friends. Madrid was a fun place to visit and I loved every second of it!