Today we announced the 12 startups selected to participate in Cycle 4 of the IMPACT Accelerator Program. This will be the final IMPACT Cycle of 2022, sponsored by our partner Johnson & Johnson Innovation. Cycle 4 will end with an exciting in-person pitch event on November 30th.
For Cycle 3, our sponsor Johnson & Johnson had asked for solutions related to key areas of interest, including post-surgical complications, intervention oncology, and wound closure.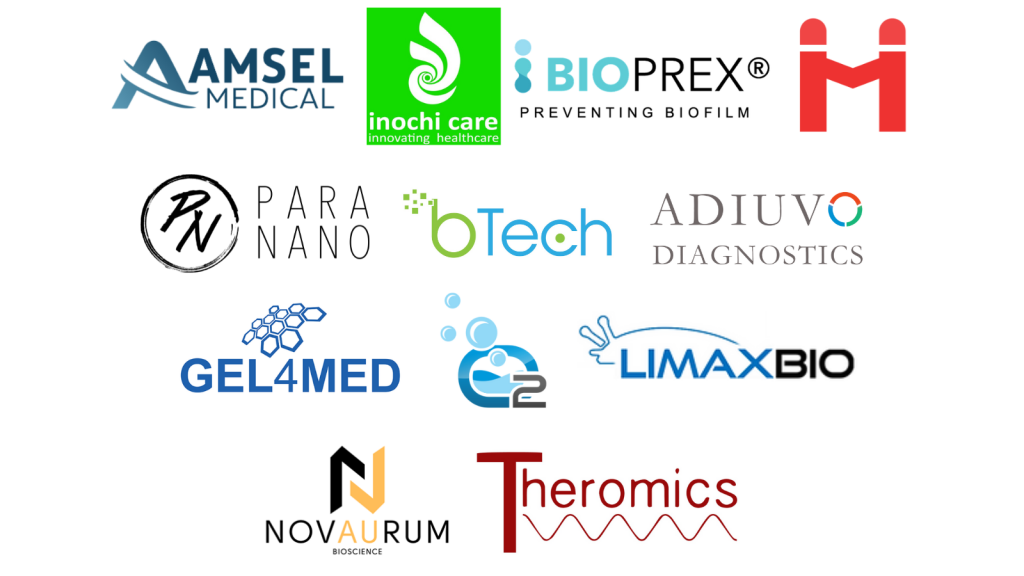 Meet the startups in Cohort 4
Adiuvo Diagnostics: Illuminate® is a novel imaging device that combines optics, electronics and AI to aid in rapid label free wound bioburden assessment and monitoring to bring down the rate of amputation and improve antibiotic stewardship.
Amsel Medical: Amsel offers an innovative approach to current occlusion, stapling, and suturing methods overcoming key inherent limitations. The SCureClamp interdigitation mechanical tissue clamping attaches tissue in a minimally invasive atraumatic manner.
Bioprex Medical: Bioprex Medical develops a fixed antimicrobial coating technology for medical devices aimed at reducing medical device associated infections.
bTECH: bTECH's patent-pending Halcyon SMART Patch (HSP) uses far infrared wavelengths beneath the surface of the skin to promote rapid tissue healing and strengthening.
Gel4Med: Gel4Med is an early-stage regenerative medicine company focused on developing our Therapeutic Materials Platform to address unmet clinical needs in soft tissue regeneration.
Hero Medical Technologies: Hero Medical Technologies is developing wearables & data-driven solutions to expedite the care of head injury and other trauma patients throughout the patient journey.
Inochi Care: Inochi Care has technology based solutions for advance wound care and management
Limax Biosciences: Limax Biosciences is developing a strong and flexible hydrogel adhesive for wounds inside and outside the body.
Novaurum Biosciences: Novaurum Biosciences is developing NanoTech cell-based coatings to prevent infections associated with medical devices.
O2 RegenTech: O2 RegenTech is commercializing cost-effective, easy-to-use wound care solutions based on novel oxygenating biopolymer technology.
ParaNano Wound Care: ParaNano Would Care is a pre-clinical trial company from Oklahoma City, OK developing a platform medical device for wound care: The Nanosheet™ Biosensor.
Theromics: Theromics has developed a biopolymer gel to make Image-Guided Thermal Ablation a better cancer treatment by augmenting the transfer of thermal energy in human tissue.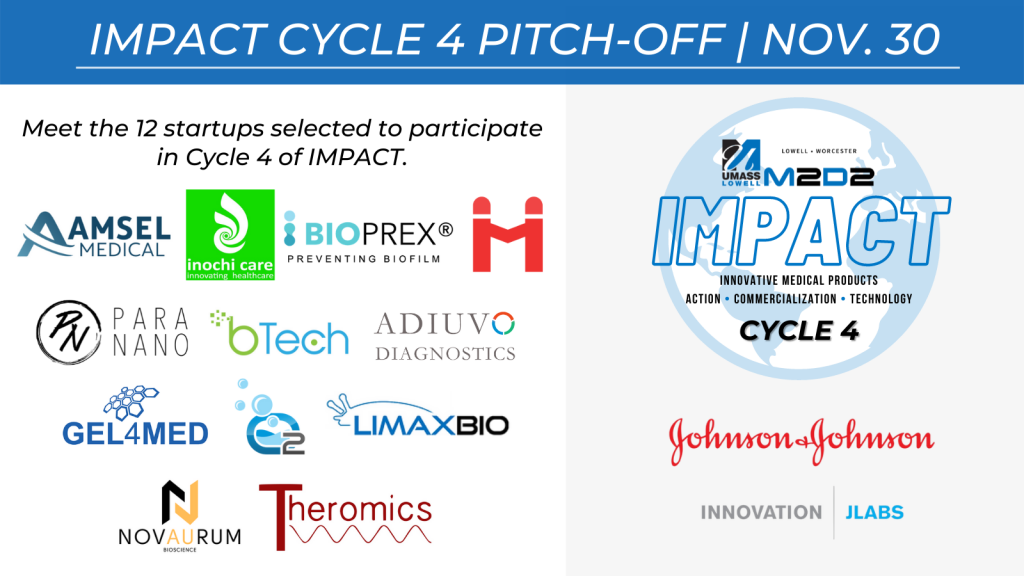 Join us in November for our final in-person IMPACT Accelerator Pitch-Off in 2022.
On November 30th, these 12 startups will pitch their innovations to a panel of industry leaders and key players for the chance to win major prizes from medtech organizations. Startups and attendees will have a chance to talk about their solutions, and network with local life sciences leaders from biotech organizations. You can join us for free.
The Cycle 4 IMPACT Pitch-Off is currently happening in Lowell at the iHub, but may be moved to Boston. Stay tuned and subscribe to our newsletter for updates and announcements about the event!