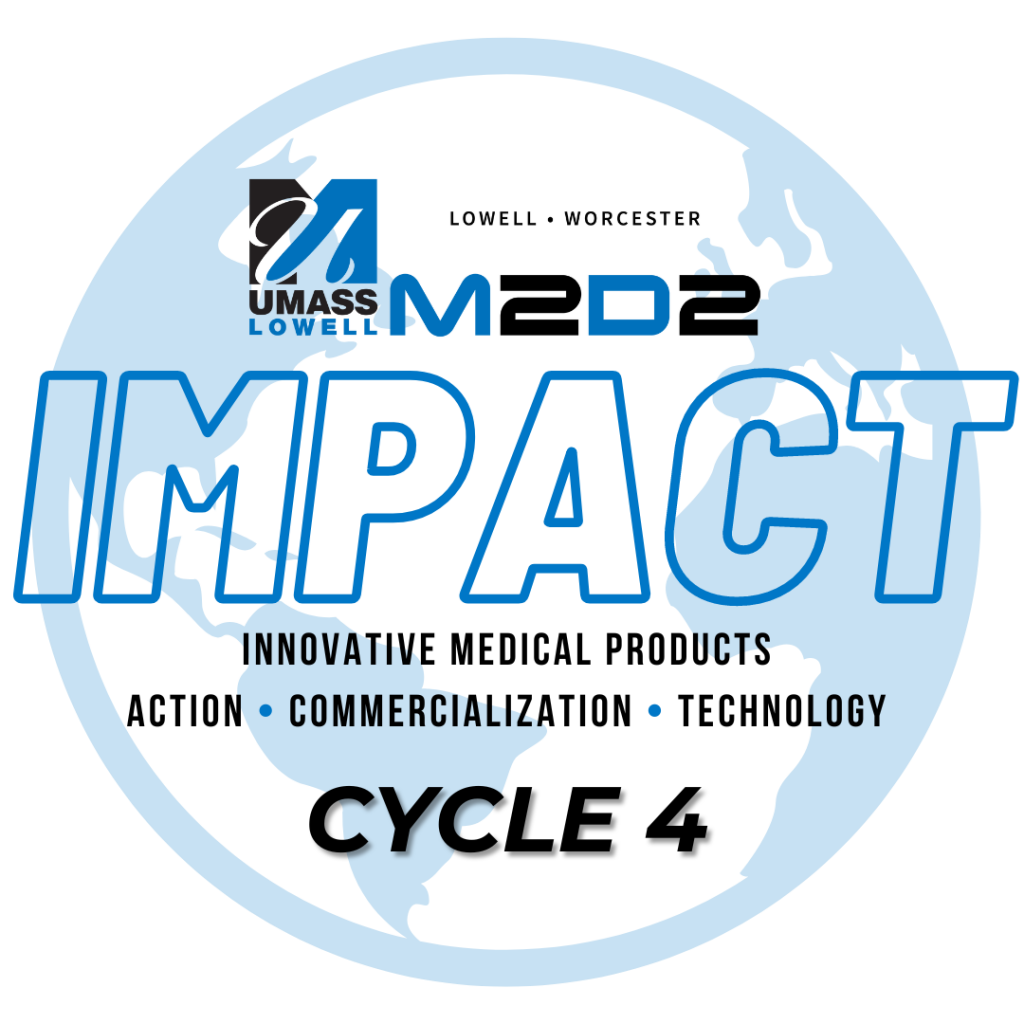 This past Wednesday, November 30th, we held our fourth and final IMPACT Pitch-Off for 2022. We were joined by leaders in medical device development from big corporations, including our Cycle 4 Sponsor, Johnson & Johnson Innovation. Over the last 10 weeks they have been working with the 12 startups in Cohort 4 to prepare them for this exciting, competitive event. 
Each startup had 4 minutes to pitch their technology to a panel of judges and life sciences experts. For the Cycle 4 Pitch-Off, the startups were pitching for 9 different prizes worth thousands that could accelerate the commercialization of their medical device.
Opening remarks from M2D2, J&J, and our virtual keynote
We started the event off with opening remarks from M2D2's very own Mary Ann Picard, and familiar face Ibraheem Badejo, who is with cycle sponsor Johnson & Johnson. Ibraheem discussed the valuable relationship with M2D2, and their involvement in the IMPACT Accelerator Program. He shared how important it is for Johnson & Johnson to be involved with early-stage startups working on new and life changing solutions in healthcare.
Ibraheem then introduced the keynote speaker, Peter Stebbins, who had to attend via Zoom. Peter shared his experience with Johnson & Johnson Innovation, and the current wound care innovation landscape.
Announcing the IMPACT Accelerator Cycle 4 Winners
Jeff Champagne, longtime friend and supporter of M2D2, was the evening's MC. He introduced each startup before their pitch time, and awarded the winning startups their prizes.
After the judges and prize sponsor representatives deliberated, everyone was called together to hear the announcement of the winners. Sponsors RedCrow and Upteaming kicked it off with a bang. Each startup in Cohort 4 received access to the RedCrow platform for 1 month, and access to Upteaming's peer-2-peer virtual networking platform.
Then, we dove into the prizes awarded to individual startups.
Prize Sponsor RedCrow awarded Limax Biosciences access to their investor showcase platform for three months.
Most Investable Award – Gel4Med
Prize Sponsor Life Sciences Nation awarded Gel4Med access to their JP Morgan RESI event in San Francisco.
Prize Sponsor MPR awarded ParaNano Wound Care $5,000 in in-kind support.
Prize Sponsor Focal Point awarded Hero Medical Technologies a coaching package with Steve DeVries valued at $2,000.
Biggest Social IMPACT Award – Hero Medical Technologies
Chosen by the audience, Hero Medical Technologies was awarded $5,000 in in-kind support by prize sponsor Alira Health.
Best Pitch-Off Presentations – Limax Biosciences, ParaNano Wound Care, Theromics
The judges selected Limax Biosciences, ParaNano Wound Care, and Theromics to receive $5,000 in in-kind support from prize sponsor Prime Path Medical.
Overall Winner for the M2D2 IMPACT Innovator Prize – bTECH
The program sponsor, judges, other panelists, and M2D2 came together to select the overall winner of the M2D2 IMPACT Innovator Prize. The room erupted in applause when familiar face (and now honorary Bostonian) bTECH, was called up to claim their prize – an entire year of lab space at M2D2.
Watch the Impact Cycle 4 Highlight Reel:
Closing out 2022 with another successful IMPACT Accelerator Program
Each IMPACT cycle highlights unique and innovative medical device startups developing novel solutions to improve diagnosis and treatment. While working with Cycle 4 Sponsor Johnson & Johnson Innovation, we discovered even more novel approaches to current challenges in the medical device and medtech ecosystem. Each startup did a fantastic job presenting their ideas to expert panelists and judges throughout the cycle.
Interested in applying to the next IMPACT Cycle? Make sure to join our mailing list so you get the latest updates about the accelerator program!