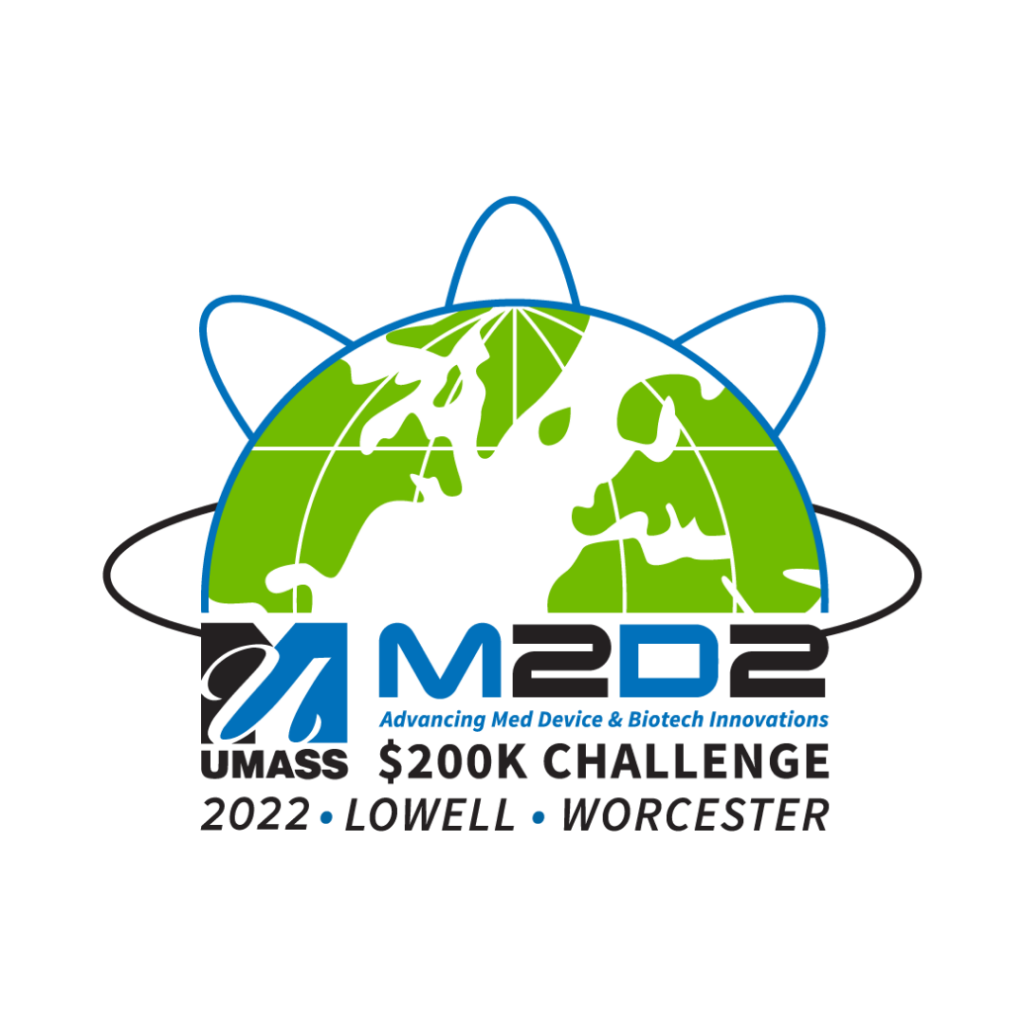 15 finalists have been selected from more than 150 applicants for the 11th Annual M2D2 $200K Challenge.
LOWELL, Massachusetts – On Thursday, March 10th, the University of Massachusetts Medical Device Development Center (M2D2) announced the finalists in its 11th annual $200K Challenge after reviewing the 150+ applications.
The 15 finalists, all early-stage medical device, diagnostic, and biotech companies, will be eligible for a share of $200,000 in sponsor-provided, in-kind services. These services can include the use of facilities including lab and office space; and engineering, product development, legal, regulatory, clinical, and business services.
Mary Ann Picard, M2D2 Director of Operations, commented on the $200K Challenge being back in person since 2019: "I cannot express how excited I am to see major investors and startups in the life sciences ecosystem together again for the $200K Challenge. Our applicants continue to inspire us and remind us why the innovation of medical and therapeutic devices is so important."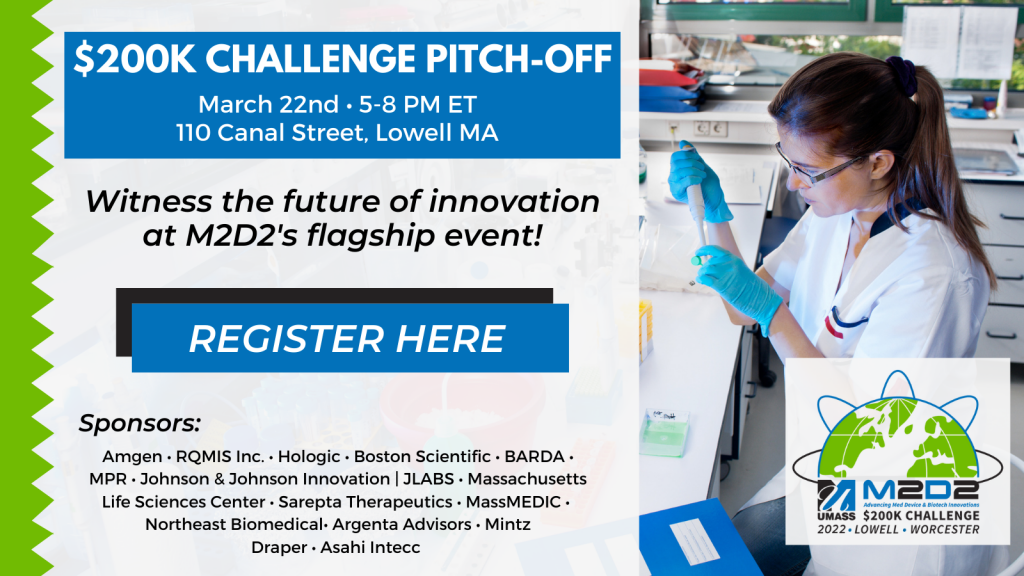 Attend the 2022 $200K Challenge Pitch-Off for FREE at the UMass Lowell iHub.
"Over the last 10 years, we've met hundreds of startups through the $200K Challenge with a moving personal story that's driving them to develop their idea. These innovators truly want to make the world a better, healthier place."
About M2D2
M2D2 assists entrepreneurs in the medical-device and biotech sector in moving new products from concept to commercialization. It is a joint venture of University of Massachusetts Medical School, which provides medical expertise and assistance with clinical trials, and the University of Massachusetts Lowell, which offers expertise in business and engineering. M2D2 has three locations, two in Lowell and one on the campus of the UMass Medical School.
Meet our 2022 $200K Challenge Finalists
Agile Devices – Deflectable microcatheter for quicker vessel navigation
BioSens8 – Affordable blood-based progesterone biosensor
Boston Scott Corporation – High aqueous content biomaterial for stents and catheters
Brigham & Women's Hospital – No-perforation "virtual staples" to create gastrointestinal anastomosis
Btech – Halcyon SMART Patch for wound care
CNS Therapy – No medication pain relief
Cryoscope – Liquid nitrogen spray cryotherapy for esophageal cancer
Curiva – Microfluidic device for proteomic testing
Glint Pharmaceuticals – Drug eluting contact lens
Illuminant – Camera-projector system-real-time visual feedback on patient anatomy
Rice University – Novel deployment mechanism for cardiac ablation procedure
Safe BVM – Sotair Series – a single-use device that pairs with all resuscitator bags
The Mind Company – tCS and EEG device for treatment of anxiety, insomnia, Alzheimer's and other neuropsychiatric disorders
Vagustim Bioelectronics – Digital therapeutic solution for drug-resistant IBD patients
Weddell Technologies – SingleSight biosensor platform for detection of antigen-specific T cells
REGISTER FOR THESE FREE IN-PERSON
2022 $200K CHALLENGE EVENTS:
$200K Challenge Pitch-Off — Tuesday, March 22 @ 5pm ET
Awards Celebration — Wednesday, April 6 @ 5pm ET
Thank you to our 2022 $200K Challenge sponsors: