Cycle 2 of the IMPACT Accelerator program is well underway as the ten selected startups work with representatives from the current Cycle sponsor, BARDA, to prepare for the pitch-off event on April 21st.
For Cycle 2, our sponsors' Areas of Interest focused on developing digital health solutions to improve at-home care, early-disease detection devices, and host-based therapeutics. In January, we worked with BARDA to choose 10 highly innovative, early-stage medtech startups to join Cohort 2.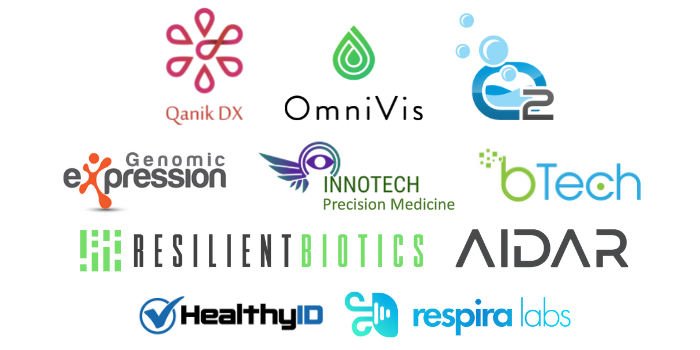 Meet the startups in Cohort 2
Aidar Health: Offers an FDA-cleared remote monitoring device, MouthLab, that measures 10+ vitals in just 60s for early disease prediction.
bTECH: Their patent-pending Halcyon SMART Patch (HSP) uses far-infrared wavelengths beneath the surface of the skin to promote rapid tissue healing and strengthening.
Genomic Expression: They are working on an RNA Platform for Next Generation Cures to better detect disease, monitor health, and design the Next Generation Cures.
Healthy ID: Their inflammation test informs people of their inflammation levels to support the prevention (or reversal) of chronic illness, with a proprietary "score".
InnoTech: Their unique technology will revolutionize the in vitro diagnostics (IVD) industry by allowing for better, faster, and more cost-effective detection of multiple classes of disease biomarkers in one test.
O2 RegenTech: They are currently commercializing cost-effective, easy-to-use wound care solutions based on novel oxygenating biopolymer technology.
Omni Vis: They are making devices to rapidly detect dangerous pathogens, in under 30 minutes, anywhere in the world.
Qanik DX: They are developing a novel diagnostic point-of-care technology platform delivering fast, early, accurate and low-cost results anytime, anywhere. Their first use case is Sars-Cov-2 detection.
Resilient Biotics: They are developing breakthrough aerosol-delivered microbiome therapeutics to prevent viral and bacterial respiratory infectious diseases.
Respira: Respira Labs is developing an AI-driven SaaS platform to enable 120M+ respiratory patients in the US, to be continuously monitored without having to perform lengthy and difficult hospital-based pulmonary tests, anywhere.
We asked members of the current cohort why they applied to the IMPACT Accelerator, and what they hoped to achieve from it. Aidar Health shared their expectations for the IMPACT Accelerator program:
"Aidar Health, Inc is collaborating with BARDA to develop and validate the AidarCOVID-19 decompensation index (AIDI), a new early warning system that uses MouthLab, an FDA cleared hand-held device that measures 10+ vital medical parameters in 60 seconds, to enable timely intervention in COVID-19 patients at risk for severe illness and rapid deterioration. We aim to leverage resources offered through the M2D2 IMPACT program and the unique 1:1 approach to initially identify trial sites, investigators, and regulatory experts to receive Software as a Medical Device (SaMD) clearance. Ultimately, we aim to work with the IMPACT experts to commercialize the AIDI prediction system to effectively confront the challenges posed by the current pandemic and also prepare for future pandemics."

Sathya Elumalai, Founder and CEO, Aidar Health, Inc.
IMPACT Startups reaching new heights during the accelerator program.
During the IMPACT Accelerator, startups within the cohort have reached exciting achievements and funding goals. On February 11th, current IMPACT startup Respira Labs announced they closed a pre-seed of $1 million, bringing their total funding to $2.8 million. We are thrilled to see startups within our programs grow their funding amounts.
M2D2 Program Manager Brennan Fournier shared his thoughts on running Cycle 2 with BARDA.
"We are over overjoyed to have BARDA partner with us on Cycle 2 of our IMPACT Program. This opportunity allows us to give startups access to all the resources our organizations have to offer. Together in partnership, we can deliver actionable commercialization support that will help bring our Cohort's solutions to more advanced levels. Their IMPACT will be presented at our in-person pitch-off event on April 21st where leaders and key players in the life sciences industry will gather for a night of transformative pitches and networking. Be sure to join us!"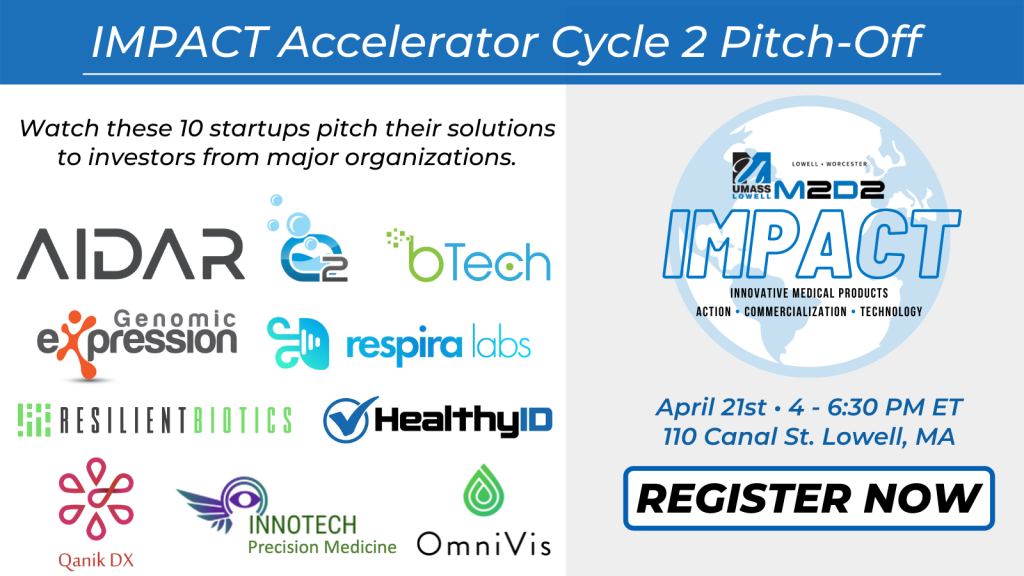 Join us in April for the first-ever in-person IMPACT Accelerator Pitch-Off.
On April 21st, these startups will pitch their innovations to a panel of industry leaders and key players for the chance to schedule 1-on-1 meetings with investors. This time around, the IMPACT Accelerator Pitch-Off will be in person at Mohoney Hall in Lowell. Startups and attendees will have a chance to talk about their solutions, and network with local life sciences leaders from medtech organizations. You can join us for free.