Over the last two years, we have been unable to come together to celebrate the $200K Challenge, and the startups involved in it. Luckily, we were still able to work virtually with innovative entrepreneurs around the country to help advance their innovations.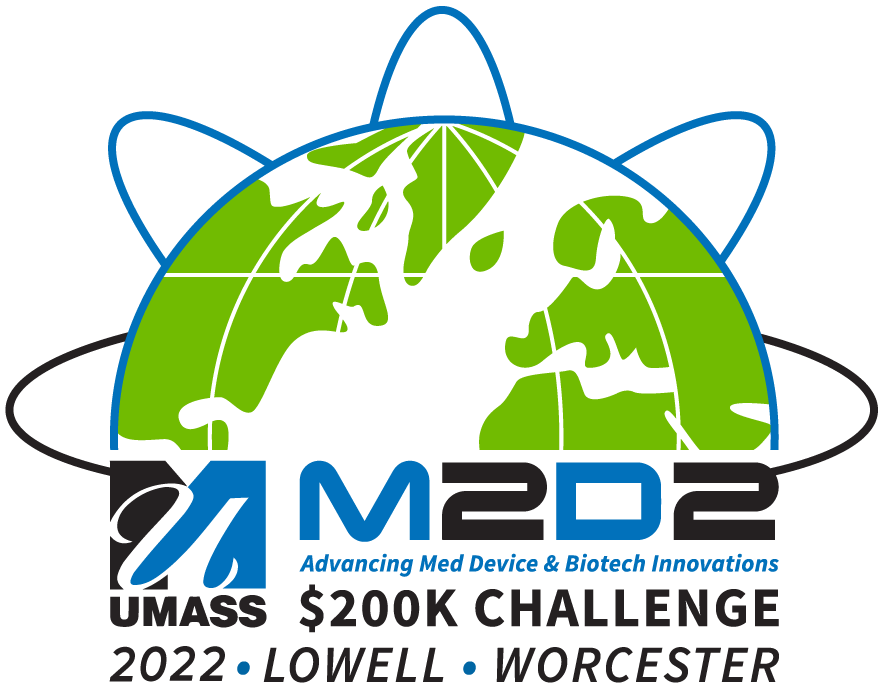 We are beyond thrilled to announce that this year, the $200K Challenge Pitch-Off will take place in-person, at M2D2. As our first major hybrid event in two years, we are excited – and cautious. We will have precautions in place and will continue to monitor the current situation to ensure everyone's safety – stay updated by checking our Challenge website and subscribing to the M2D2 email.
This year, up to 15 finalists will become eligible to win a share of our $200,000 purse of sponsor-provided, in-kind services and cash prizes. The in-kind services include lab and office space, engineering, product development, legal, regulatory, clinical, and business services.
M2D2 Director of Operations Mary Ann Picard shared her excitement for this year's challenge. "I cannot express how excited I am to see major investors and startups in the life sciences ecosystem together again for the $200K Challenge. Our applicants continue to inspire us and remind us why the innovation of medical and therapeutic devices is so important."
Meet the 2022 $200K Challenge Keynote Speaker
Amar (Amarpreet Singh Sawhney) Sawhney is the Chairman and CEO of Instylla Inc, an organization developing new liquid embolics for tumor embolization and hemostasis. During the $200K Challenge Pitch-Off, Amar will share important insights during his talk ""Considerations for startups in Medtech innovation."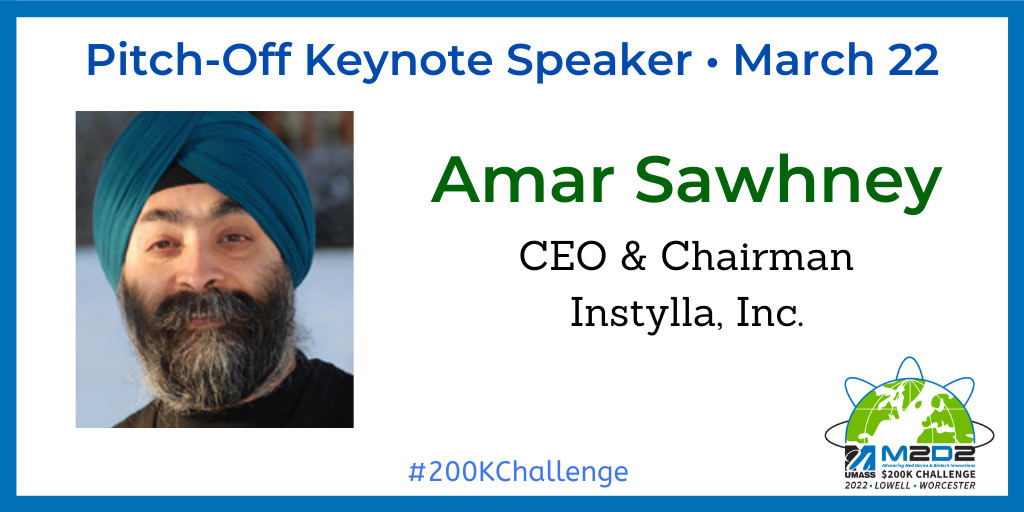 Previously he was President and CEO of Ocular Therapeutix, Inc. (OCUL: NASDAQ) a company focused on unmet needs in ophthalmic drug delivery. He was also the Chairman of Augmenix, Inc. (acquired by Boston Scientific), Founder and CEO of Confluent Surgical (acquired by Covidien), the Chairman of MarketRx (acquired by Cognizant), a provider of pharmaceutical marketing and sales analytics and intelligence, technology founder of Focal, Inc. (acquired by Genzyme) and Access Closure Inc. (acquired by Cardinal Health). He holds over 120 patents, which form the basis for several first-of-a-kind medical devices that have helped over 5 million patients worldwide.
He has founded eight companies, which account for over 4,000 jobs created and over $2 billion in revenue to date. Dr. Sawhney helps foster entrepreneurship by mentoring young innovators and creating companies through Incept, a medical device incubator. He is a member of the board of directors of EcoSikh, Axtria, Imperative care, Instylla, Rejoni, Tulavi, and Incept LLC. He is on the advisory board of the MIT Museum.
When asked about his role in the $200K Challenge, "Having spent the last 30 years in Medtech innovation, one cannot help but develop some rules of thumb to evaluate opportunities based on pattern recognition of failures and successes. I hope to share some of these learnings with other entrepreneurs, in case they can be helpful to them, as they continue to be for me."
Still making differences throughout a difficult time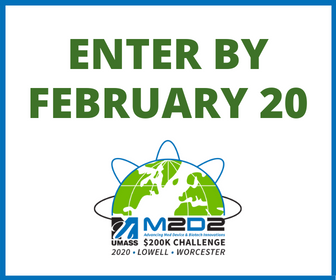 The past two years have forced many to work under difficult circumstances, either from home or in an emptied office with strict and necessary guidelines. Despite these challenges, we saw many innovators continue to develop their novel technologies and work to improve healthcare for individuals everywhere. Check out the winning pitches from last year's virtual event.
We are looking forward to bringing entrepreneurs, innovators, and investors back together for our biggest event of the year.
Key dates coming up:
Key Challenge dates—Mark your Calendar!
Friday, January 14th: Entries Open
Tuesday, February 1st: Info Session Webinar "All About the 2022 $200K Challenge"
Sunday, February 20th: Entries close
Friday, March 4th: Finalists Announced
Tuesday, March 8th: Finalists application & poster due
Friday, March 4th-22nd: Coaching sessions for finalists
Monday, March 21st: Final slide deck due
Tuesday, March 22nd: Finalist Pitch Competition at UMass Lowell
Wednsday, April 6: Awards Celebrations