On December 9th, members of the 1st IMPACT Cohort joined the M2D2 team for a night of networking with key leaders in the Massachusetts healthcare innovation ecosystem. During this in-person event, IMPACT startups shared lightning pitches of their innovations and met with partners and sponsors of M2D2.
M2D2 HQ packed with MA life sciences experts, investors, and entrepreneurs eager to connect.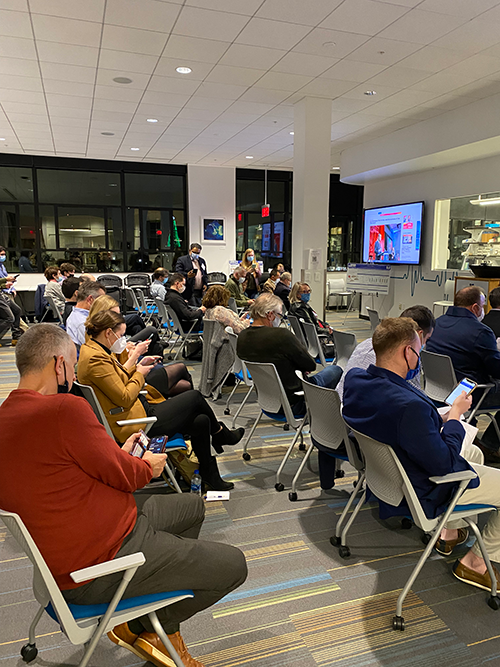 The IMPACT Next Gen Healthcare Meetup was our first full-fledged networking event at M2D2 since the start of the pandemic. Members from the IMPACT Cohort 1 startups met with local experts from organizations including MPR, Northeast Biomedical and Mass Bio.
myBiometry team member and Director of Quality Christie Johnson has found immense value in the workshops and virtual events available to the IMPACT startups. "I really liked the programs that you could call into. I was surprised at how open it is, how you could actually ask questions and participate in the sessions."
The event featured guest speakers Tracy Dodenhoff, CEO of Nurse Approved, and IMPACT mentor Chesley Chen, Life Sciences Principal with CLA. They both shared stories about their interest in life sciences innovation, and how they work with early-stage startups.
CEO Tracy Dodenhoff shares insight on Nurse Approved.
Tracy shared her experience as CEO of Nurse Approved and the difference it makes for startups to connect with nurses when developing a healthcare solution. Nurses are on the frontlines and continue to be the most trusted profession, ranking number one for the last 19 years. Their opinion truly matters, the Nurse Approved platform offers startups the ability to get detailed video feedback on their solution from experienced nurses.
We asked Tracy what she felt was different about IMPACT as an accelerator program and why she chose to support Cycle 1. "It's hard to stand out, particularly as a new venture. It's crucial to have someone that's behind you and make those warm introductions, especially those relevant introductions. Within IMPACT, M2D2 can make those connections for you."
Attendees participated in interactive break-out discussions with expert Chesley Chen.
Chesley shared strategies in collaboration and networking with interactive conversations and breakout discussions. Attendees were instructed to connect with two individuals they did not know, share a couple fun facts and stories, and connect either on LinkedIn or share email contact information.
These breakout discussions allowed attendees to try out some of Chesley's strategies in real-time. It also guaranteed that even the people who struggle with in-person networking walked away with two more or more new connections.
Bringing the future of life sciences innovation to the public.
On Friday 17th December, the Cohort pitched their medical device solutions to a panel of key decision-makers and investors during the IMPACT Accelerator Pitch-Off. Attendees learned more about their medical device developments, from innovative solutions for skin transplantation to needle-free solutions for drug delivery.
The winners in the 1st IMPACT Cohort included:
1st Place Award: Meacor
2nd Place Award: Agile Devices
3rd Place Award: Pacify Medical
Life Sciences Nations Conference – myBiometry
NurseApproved Platform Access – Breathe BioMedical
NurseApproved Platform Access – Parrots
Watch the IMPACT Accelerator Pitch-off here: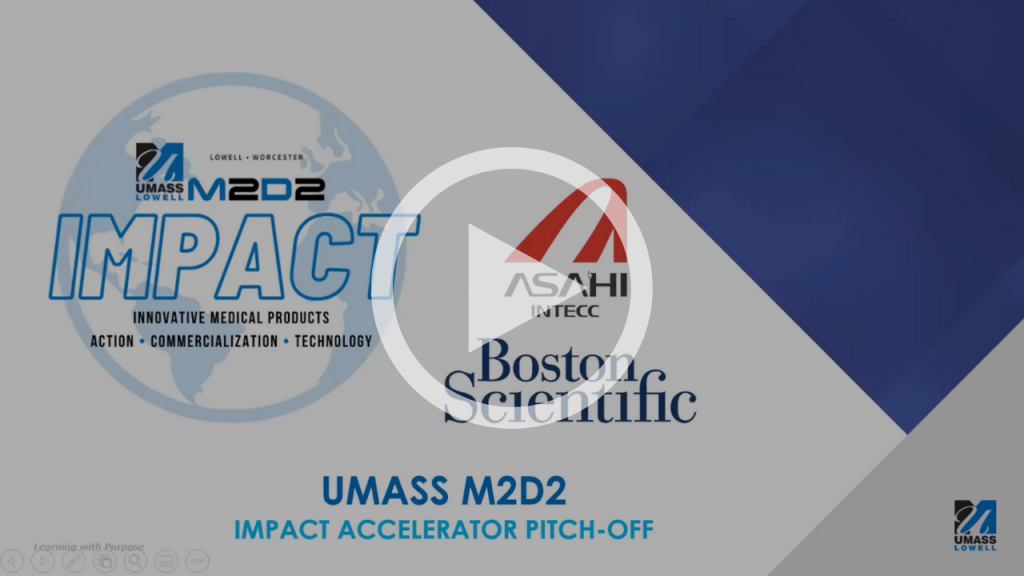 What is IMPACT?
The M2D2 IMPACT program is a 12-week accelerator program that will run for 6 cycles. The program aims to advance early-stage companies looking to reshape the future of healthcare. Selected companies will have the opportunity to engage with our sponsors' specialized research calls to help advance their business.