10 startups have been selected to participate in the first cohort of the IMPACT Accelerator Program.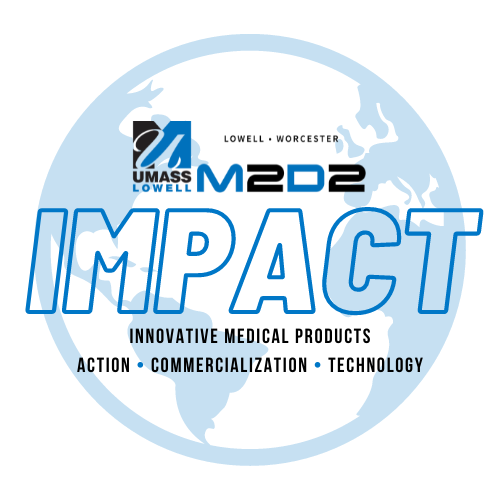 This week, M2D2 announced the finalists for its IMPACT Accelerator Program, a recently launched 12-week program designed to help early-stage companies advance their innovation. These 10 finalists will work closely with M2D2 and its network of experts, receiving 1-on-1 mentorship, education workshops, and access to lab equipment. After the 12-week program, the startups will be part of a public pitch event, where other life sciences startups and investors can learn more about their innovation.
Brennan Fournier, M2D2 Program Manager, is thrilled to start the first cycle of the IMPACT program.
"I'm overjoyed to launch the first cycle of our IMPACT Program and can't wait to showcase the disruptive innovations of our cohort."
"IMPACT is a newly launched center at M2D2 that aims to bring solutions to the commercial market at a faster pace. Startups selected for the program will go through 10-weeks of commercialization strategy workshops and then pitch their innovation to our life sciences community of entrepreneurs, investors, and partners."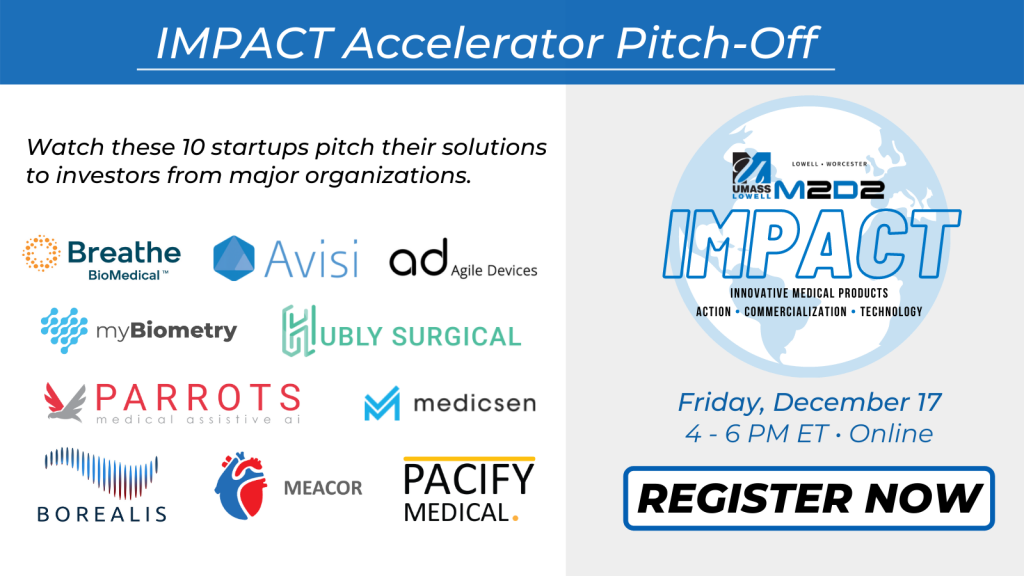 "We're excited to connect these startups with ample resources that will help bring their life-saving innovations to market."
On December 17th, the Cohort will pitch their medical device solutions to a panel of key decision-makers and investors during the IMPACT Accelerator Pitch-Off. They'll pitch for the opportunity to schedule 1-on-1 meetings with investors from organizations including Boston Scientific and Asahi Intecc, who will help advance the commercialization of their innovation.
Meet the 1st Cohort:
Agile Devices: Microcatheter technology with transformational tip control (distal tip can deflect bi-directionally up to 180 degrees and rotate 360 degrees)
Avisi: (VisiPlate) Thin, flexible, biocompatible nanotechnology-enabled ocular implant designed to transform the clinical strategy used for patients suffering from Primary Open Angle Glaucoma (POAG)
Borealis: Cooling catheter that is left within the hematoma cavity following ICH evacuation to rapid cool at the site of injury while avoiding the pitfalls of whole-body cooling approaches
Breathe Biomedical: Technology platform used to measure Volatile Organic Compounds (COV's) in the lower alveolar portion of exhaled breath to detect diseases, specifically lung cancer
Hubly Surgical: Advanced intracranial drill designed for safety and ease of use with plunge prevention, catheter guidance, and battery power for use inside and outside of the operating room
Meacor Inc.: Novel catheter-based anchoring device that would replicate the open-heart standard of care for mitral and tricuspid valve repair
Medicsen: Needle-free smartpatch for painless drug delivery
myBiometry: Novel at-home diagnostic technology that combines digital health, machine learning, and clinical services to create a comprehensive solution for asthma
Pacify Medical: Portable surgical device (skin spray gun) for skin transplantation using autologous (patient's own) skin
Parrots Inc.: Polly is an inclusive platform using AI and ML to give smart communication and telecare to people with neurological disorders
What is IMPACT?
The M2D2 IMPACT program is a 12-week accelerator program that will run for 6 cycles. The program aims to advance early-stage companies looking to reshape the future of healthcare. Selected companies will have the opportunity to engage with our sponsors' specialized research calls to help advance their business.