While we couldn't safely gather in Boston at Mintz headquarters, this year's $200K Challenge proved the pandemic couldn't slow down the innovative minds of startups around the globe. Entrepreneurs, investors, researchers academics and insiders came together after work Wednesday, April 7th for the 2021 $200K Challenge Awards Celebration.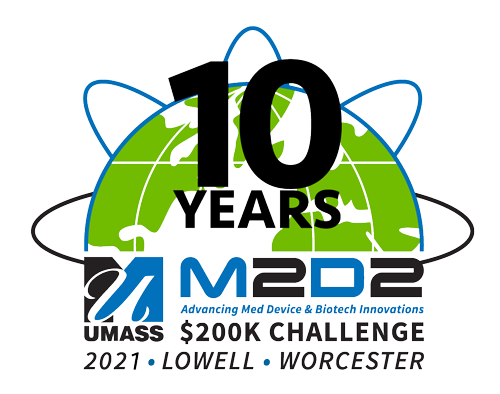 The 15 finalists (chosen from more than 170 entries) had pitched their innovations two weeks earlier and were now waiting anxiously to learn who would win a share of the $200,000 in sponsor-provided, in-kind support. The best part: Who would win the Grand Prizes—$50,000 in non-dilutive funding from Massachusetts Life Sciences Center and $25,000 in cash funding from M2D2?
Kicking it off right
Bill Geary of Mintz, a major M2D2 and $200K Challenge Sponsor, started the evening off with an overview of the $200K Challenge, and the growth M2D2 has made since its inception. "M2D2 has grown from a small operation at UMass Lowell to now partnering with the UMass Medical school in Worcester and opening multiple laboratory spaces," he said. "This growth and transformation of M2D2 has been nothing short of inspiring."
Bill Whelan, co-chair of Mintz Life Sciences Practice, followed and shared key highlights from an upcoming Mintz M&A report covering the last year. It reviews the changes the pandemic brought, and the positive outlook many companies in Massachusetts have. "All seems to be a very positive dynamic here in Massachusetts for M&A, continued growth in companies, and startups with an exit strategy."
Top takeaways from keynote speaker Jennifer Griffin
Our keynote speaker, Jennifer Griffin, VP of Industry Strategy and Investments at Massachusetts Life Sciences Center, shared her thoughts on the importance of investing in startups and the companies that help them succeed.
She touched on the resources M2D2 and its supporters offer to companies: "It's not just physical space and R&D equipment. There's business plan development help, assistance with engineering and prototyping, running clinical trials, accessing the many core facilities within the two campuses, and access to the M2D2 life sciences network," she said. "Being part of M2D2 for a life sciences company is kind of like hitting the jackpot."
Then it was time to announce the winners—and here they are, with their winning pitches:
Industry Partner Awards
ASAHI-INTECC and HOLOGIC AWARDS to Weill Cornell, for 3D rendering MRI technology.
AMGEN and M2D2 AWARDS, plus the $50,000 cash award from Massachusetts Life Sciences Center, to AcousticaBio for reformulated intravenously-delivered biologics for subcutaneous injections.
JOHNSON & JOHNSON, MINTZ, ARGENTA ADVISORS, and M2D2 AWARDS to General Prognostics for a platform for continuous blood biomarker monitoring.
JOHNSON & JOHNSON, MINTZ, ARGENTA ADVISORS and M2D2 AWARDS to SaluTech Limited for using conductive biomaterials to treat Atrial Fibrillation.
M2D2 $25,000 CASH AWARD to BioSens8 for a novel class of biosensors.
Additional in-kind sponsor awards
In addition to the major industry resources awarded to Finalists, we have 6 finalists who have received in-kind sponsor services.
Aidar Health: Winner of in-kind resources from MPR & Mintz
Kalia Health: Winner of in-kind resources from Kohler & Argenta Advisors
D&P Innovations: Winner of in-kind resources from Argenta Advisors
Breegi Scientific: Winner of in-kind resources from Mintz
Theromics: Winner of in-kind resources from Mintz
Tremedics: Winner of in-kind resources from Mintz
More than 170 life sciences startups entered the 2021 $200K Challenge. We thank them all for sharing their ideas and once again raising the bar on life sciences innovation, especially in these difficult times. We wish every entrant, Finalist, and Winner every success as they advance their innovations from the lab table to the marketplace.

Finally, a big "Thank you" to this year's challenge sponsors: