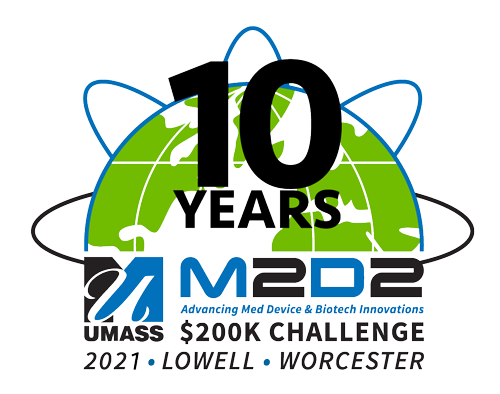 15 finalists have been selected from more than 170 applicants for the 10th Annual M2D2 $200K Challenge.
LOWELL, Massachusetts – The University of Massachusetts Medical Device Development Center (M2D2) today announced the finalists in its 10th annual $200K Challenge after reviewing the 170+ applications.
The 15 finalists, all early-stage medical device, diagnostic, and biotech companies, will be eligible for a share of $200,000 in sponsor-provided, in-kind services. These services can include use of facilities including lab and office space; and engineering, product development, legal, regulatory, clinical, and business services.
Mary Ann Picard, M2D2 Director of Operations, commented on the Finalist selection process: "Every year, the Challenge gives us a peek at amazing early-stage ideas in medical devices, medtech, biotech, and therapeutics. This year is our second time hosting the Challenge virtually. We are excited that attendees from anywhere can learn about these startups' innovative solutions."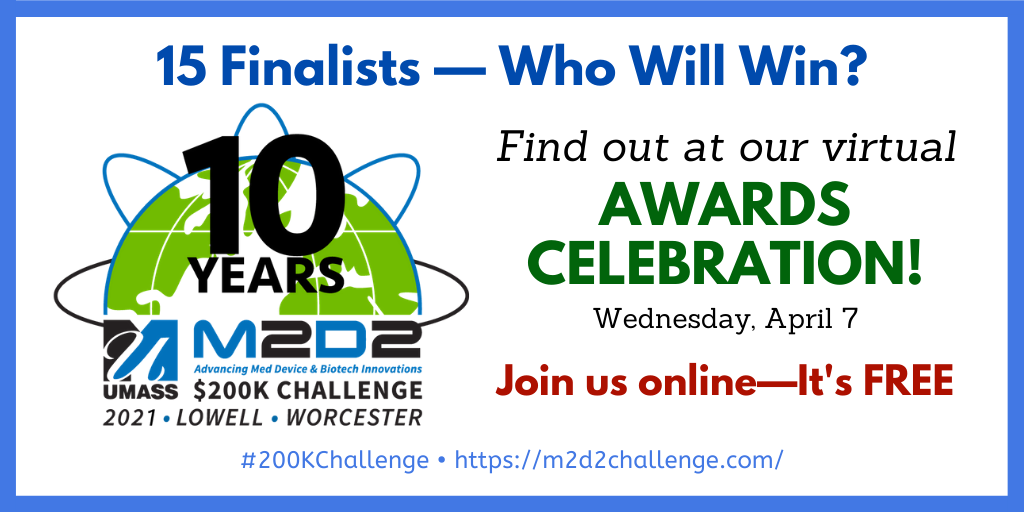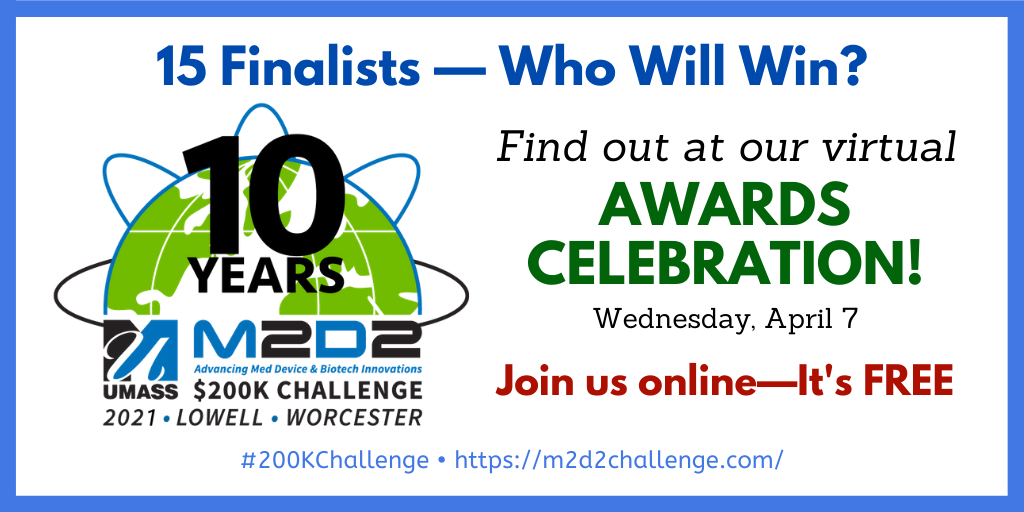 "Over the last 10 years, we've met hundreds of startups through the $200K Challenge with a moving personal story that's driving them to develop their idea. These innovators truly want to make the world a better, healthier place."
About M2D2
M2D2 assists entrepreneurs in the medical-device and biotech sector in moving new products from concept to commercialization. It is a joint venture of University of Massachusetts Medical School, which provides medical expertise and assistance with clinical trials, and the University of Massachusetts Lowell, which offers expertise in business and engineering. M2D2 has three locations, two in Lowell and one on the campus of the UMass Medical School.
Meet our 2021 $200K Challenge Finalists:
AcousticaBio – Reformulated intravenously-delivered biologics for subcutaneous injections
Aidar Health – A non-invasive, hand-held, home monitoring device.
Apercu – Non-invasive and mobile on-catheter monitoring system for CAUTIs
Assure Technologies – Precise syringe for accurate small volume medication measurements
BioSens8 – Novel class of biosensors
Breegi Scientific, Inc. – Single use wearable airlock head chamber system
D&P Bioinnovations – Immune modulating anti-inflammatory organ regeneration platform
General Prognostics Inc. – Platform for continuous blood biomarker monitoring
Kalia Health – Urine-based POC detection test for preeclampsia
SaluTech Limited – Using conductive biomaterials to treat Atrial Fibrillation
Theromics Inc. – Thermal accelerant for the ablation of soft tissue
Tremedics Medical Devices – Bioresorbable stent composed of poly-L-lactide fibers
Tritheter Corp – Smart catheter system
UMass Medical School – Novel In-vitro and in-vivo hydrogel
Weill Cornell – 3D rendering MRI technology
Stay Online After the Pitch-Off Ends
After the Finalist Pitch-Off, join us for a virtual networking opportunity in Zoom Break-out Rooms. The 10 poster presenters chosen for the $200K Challenge will present their innovations and contact information to attendees for the chance to follow-up with questions.
Meet our 2021 $200K Challenge Poster Presenters:
Akttyva Therapeutics – Drug discovery MK2 protein target platform
AOA Dx Inc – Non-invasive liquid biopsy cancer test
Children's Hospital Philadelphia – Adaptive assist devices for cone enema system
Dogodan Therapeutics, Inc. – Nucleic acid based therapeutics for lung disorders
Enable Therapeutics – Large molecule drug delivery technologies
MindMics – Novel health monitoring system
Navadix – Multi-modal sulfated non-anticoagulant heparins
Ortholevo, Inc. – Joint injection for degenerative neuromuscular disorders
Phiex Technologies, Inc. – Novel medical device sterilization solution
RepairStroke – Self-assembling peptide hydrogels to repair stroke lesions
Steradian Technologies, Inc. – Hand-held breath pathogen detection 30-second device
VoluMetrix – Non-invasive venous waveform analysis device
Register for these FREE virtual
2021 $200K Challenge events:
$200K Challenge Pitch-Off — Wednesday, March 24 @ 5pm ET
Awards Celebration — Wednesday, April 7 @ 5pm ET
Thanks to our 2021 $200K Challenge sponsors: