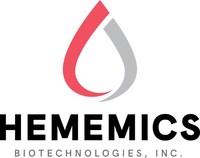 M2D2 is excited and proud to share the news that Hememics Biotechnologies, Inc. has secured U.S. government funding from the Biomedical Advanced Research and Development Authority (BARDA) for the advancement of a COVID-19 rapid test.
BARDA is collaborating with Hememics on the development of this rapid, Bluetooth-connected SARS-CoV-2 diagnostic test. The test aims to provide two levels of detection:
Detection of SARS-CoV-2 antigen from nasal swab samples
Detection of associated antibodies in 60 seconds or less through a finger-prick.
"We were thrilled to get this news, particularly right in the heels of BARDA's announcement of its $483 million award to Moderna to advance its experimental coronavirus vaccine," said Mary Ann Picard, M2D2 Director of Operations. "As a BARDA DRIVe accelerator, we're proud to have helped the Hememics team make the connection with this program. And we're grateful for the guidance of MPR Product Development, one of our corporate sponsors, in shepherding Hememics through the pre-application tech call process."
Picard continued, "Absent a vaccine and proven therapeutics, widespread and reliable testing and detection is the most valuable tool for gauging public safety and relaxing the current restrictions. We wish Hememics every success in getting their test to market."
BARDA offering awards up to $750K for coronavirus / COVID-19 countermeasures
BARDA's EZ BAA is seeking abstract submissions for the following critical areas of interest:
AOI #4.1-A: Molecular Diagnostic Assay for SARS-CoV-2 virus on existing FDA-cleared platform
AOI #4.1-B: Point-of-Care Diagnostic Assay for detection of SARS-CoV-2 virus
AOI #4.1-C: Diagnostic Assay for detection of COVID-19 disease
AOI #4.3: COVID-19 Vaccine
AOI #4.4: Advanced Manufacturing Technologies
Please see the updated solicitation BAA-20-100-SOL-0002 for more information, including program manager contact info. Submissions close June 30 at 5pm ET.
As New England's only BARDA DRIVe accelerator, we're ready to help connect you and your life sciences innovation with this generous funding source.