This spring UMass Lowell Department of Chemical Engineering, and the UML's Massachusetts Biomanufacturing Center received funding through the Massachusetts Life Science Center "Building Breakthroughs" program. The funding will support continuous bioprocessing manufacturing as an alternative to batch manufacturing. This new process is being explored in the manufacturing of small molecule drugs by the pharmaceutical industry.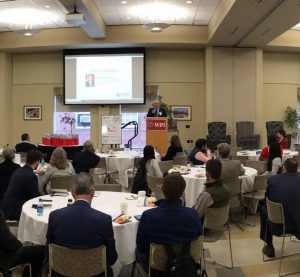 The research grant is part of a consortium that includes the M2D2 resident company (and 2018 $200K Challenge finalist) Versatope Therapeutics, who have developed an exosome-like vesicle technology currently used for vaccines. With this funding, these organizations are creating a truly transformative "continuous manufacturing" process for biopharmaceutical manufacturing.
Why is continuous manufacturing better?
In the world of pharmaceuticals, there is an existing biomanufacturing bottleneck that keeps necessary medicine and therapies from patients. The current method is slow-moving, demanding multiple gaps in processing to repeatedly test samples, and becomes more expensive for corporations to operate as their demand increases.


Many of the negatives in biomanufacturing can be associated with batch manufacturing. Batch manufacturing is the industry standard used by most companies and includes a long, multi-step process that requires larger equipment.
The better alternative to this method is continuous manufacturing. CEO of Versatope Christopher Locher is enthusiastic about this transition. "It is more cutting edge. Many companies are moving away from the old method of batch manufacturing to continuous manufacturing to improve product quality and quantity as well as to reduce time and cost."
There are numerous benefits to this new method of manufacturing, and it works exactly as it sounds. Product made within this process is moved consistently without pause throughout the same facility, which eliminates the wait times present in batch manufacturing. The monitoring of pharmaceuticals in continuous manufacturing is automated and more frequent than its' predecessor single batch process. The update in technology reduces the chance for human error, saves production time, and may reduce vaccine and drug shortages.
The transition to continuous manufacturing is comparable to the introduction of the automobile assembly line from Henry Ford. The impact of this moving assembly line was radically innovative early in the twentieth century. It offered many of the same advantages that continuous manufacturing will offer. These encompassed creating less waste, higher product quality, and a continuous workflow that saved time.
New steps in the right direction
This alternative to batch manufacturing can sound like the obvious choice. However, the startup costs, which include replacing most, if not all the technology used in the process are far too high for many startup companies to take on. In many cases, the technology needed to sustain continuous manufacturing has not yet been created, and the cost to do so stalls many researchers. The funding from MLSC allows UMass Lowell and Versatope to meet those startup costs and move the technology forward.
A truly transformative tech
Carl Lawton, Associate Professor of Chemical Engineering at UMass Lowell, discusses the importance of the technology in use at UML. According to Lawton, the technology was developed by NIRRIN and has been used within the biomedical industry for approximately 10 years. "Our technology enables precision communication between the upstream bioreactor and the downstream purification equipment by utilizing an accurate, robust sensor that measures product concentration inline." This type of tech, coupled with further research and eventual implementation of continuous manufacturing, can allow for even more accurate production.
Versatope and UMass Lowell are both eager for the opportunities this technology can offer. Locher was asked if this technology will have a role in Versatope's new therapies. "Yes, definitely, once the continuous manufacturing process or "tech" is optimized, we can accelerate the development of new products and therapeutics because we can adapt the new technology to a diverse pipeline of vaccines and therapeutics."
It is always invigorating to see groundbreaking discoveries coming from smaller, fledgling biotech companies. Mary Ann Picard, Director of Operations at M2D2, expresses the importance of supporting these organizations. "UMass Lowell and companies of M2D2 are as invested in life sciences innovation as any company or institute in the Boston area. Seeing important and significant research come from our resident companies has been refreshing and exciting. We're grateful for the material support that will assist in advancing the ideas coming out of our incubator."
Learn more about Massachusetts Life Science Center