Introducing Respirix, one of 21 medtech startups chosen as finalists in the 8th annual M2D2 $200K Challenge. We spoke with CEO Eric Kriegstein who shared the story of their innovation.
Respirix is developing a hardware and software platform to change the paradigm for non-invasively monitoring, and managing, patient health.
What was the genesis or inspiration for your idea?
The key motivation for creating Respirix was basically, in an age where technology has advanced to the point where cars essentially drive themselves, why should we require expensive and invasive catheters and implants to obtain accurate and actionable information for patients in need?
What are the most significant barriers you've faced and overcome?
Developing a solution that is easy to use, has low COGS, and can reliably acquire our waveform from heart failure patients at home has been a major undertaking. I'm proud of the first generation Cardiospire device and software the team has built, and it has performed very well in clinical and preclinical studies to date.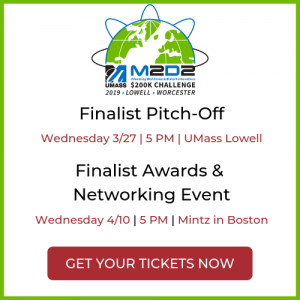 Can you share a "Eureka!" moment—a breakthrough in the development of your idea?

Evan Luxon, the inventor of our core IP, was performing an unrelated large animal study in 2015 when he noticed that there was a very small perturbation in airway pressure from a ventilated pig that interestingly, had the same frequency as the EKG. He dug deeper into this signal, realized it had been neglected by the scientific community, and Respirix was born.
 If you win, what's next?
We are very hard at work on a number of priorities, including two new clinical trials, the development of our next generation handheld, and more advanced algorithms to predict patient status. These projects will continue regardless if we win M2D2, but we are confident that if we do win, we will benefit from strategic resources beyond capital that can accelerate reaching our goals, and deepening our ties to the Massachusetts healthcare ecosystem.
You're invited to meet ALL 21 finalists in person at the two upcoming events that will conclude the Challenge:
Challenge Pitch-Off—Wednesday, March 27 at 5:00 pm, University Crossing, 220 Pawtucket St., Lowell
Finalist Awards & Networking Event—Wednesday, April 10 at 5:00 pm, Mintz, 1 Financial Center, Boston
For more information and tickets, visit https://www.eventbrite.com/e/2019-m2d2-200k-challenge-finalist-showcase-pitch-off-events-tickets-56587606053