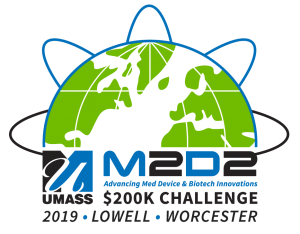 21 finalists have been selected from over 150 applicants for the 8th Annual M2D2 $200K Challenge. This year's participation sets a new record for the competition!
LOWELL, Massachusetts – The University of Massachusetts Medical Device Development Center (M2D2) today announced the finalists in its 8th annual $200K Challenge after reviewing a record-setting 150+ applications.
The 21 finalists, all early-stage medical device, diagnostic, and biotech companies, will be eligible for a share of $200,000 in sponsor-provided, in-kind services. These services can include use of facilities including lab and office space; and engineering, product development, legal, regulatory, clinical, and business services.
M2D2 assists entrepreneurs in the medical-device and biotech sector in moving new products from concept to commercialization. It is a joint venture of University of Massachusetts Medical School, which provides medical expertise and assistance with clinical trials, and the University of Massachusetts Lowell, which offers expertise in business and engineering. M2D2 has three locations, two in Lowell and one on the campus of the UMass Medical School.
The 2019 $200K Challenge sponsors are Johnson & Johnson Innovation, the Massachusetts Life Sciences Center, Amgen, Boston Scientific, Mintz, MPR Product Development, R&Q (Regulatory & Quality Solutions), Hologic, Asahi Intecc, and the Deshpande Foundation.
This year's Challenge finalists are:
ARO – Minimally invasive treatment device for orthopedic surgery
Buzzing Technologies – VR (virtual reality) simulation of natural orifice surgery procedures
CardioCorX – Solutions for atrial fibrillation with or without heart failure
Childrens National – Novel system for label-free vasculature imaging
Dynocardia – Stand-alone, wearable cNIBP monitor for outpatient diagnosis and management of hypertension
EnClear Therapies – Neurovascular diagnostic device
Endovascular Engineering – Novel platform for mechanical thrombectomy in stroke
EnLisense – Clinically relevant wearable electrochemical biosensor system
Gynion – Device for treatment of AUB (abnormal uterine bleeding)
IMOV – Minimally invasive electrophysiology device for diagnosis and treatment
Kinnos – Infection control device
Leon Scientific – The world's first microscope that can mechanically map living cells in 3D
MediSim – Haptic enabled VR surgery simulator
Neurovascular Diagnostics – Developing an RNA expression diagnostic to detect biomarkers of unruptured intracranial aneurysms
NPT Rapid Testing – Novel diagnostic for accurate and early detection of bloodstream infections
Respirix – Non-invasive cardiac monitor for congestive heart failure patients
Rithim Biologics – Gene therapy for atrial fibrillation
Teratonix – MSM diode-based RF charging technology for implanted medical devices
Thoreau Labs – Sepsis solution
UroMonitor – Device to simplify and improve diagnosis and treatment of stress urinary incontinence
UroRelief – Inexpensive, convenient, non-invasive device for treatment of over active bladder
All finalists will display and demonstrate their ideas at the M2D2 Challenge Finalist Pitch-Off on Wednesday, March 27 at 5:00 pm at UMass Lowell's University Crossing. The Challenge winners will be announced on Wednesday, April 10 at 5:00 pm at an Awards & Networking event hosted by Mintz in Boston.
Tickets can be purchased for either or both events at: 
https://www.eventbrite.com/e/2019-m2d2-200k-challenge-finalist-showcase-pitch-off-events-tickets-56587606053