Introducing CardioCorX, one of 21 MedTech startups chosen as finalists in the 8th annual M2D2 $200K Challenge. We spoke with CEO and President, Randy Werneth, who shared the story of their innovation.
CardioCorX was chosen for their development of a simple integrative medical approach for patients suffering from atrial fibrillation with or without heart failure.

What was the genesis or inspiration for your idea?
I was talking to a physician about one of his atrial fibrillation patients who had recently suffered a stroke. We talked about how blood can pool in the left atrial appendage of patients with AFib, and to further demonstrate this idea, the physician drew me a picture of the appendage. What struck me about the LAA was that it appeared to look like a wind-sock hanging off the left atrium. The more I looked at it the more I started to wonder why we weren't using this pocket connected to the heart to our advantage.
The heart's pocket, I thought, just like a pant's pocket, could be the perfect place to put something of value—a technology to improve the lives of patients.
What are the most significant barriers you've faced and overcome?
To date, the most difficult has been the final polymer configuration, one that will can be safely placed in the left atrial appendage (LAA) and fill the LAA volume without stretching the LA tissue.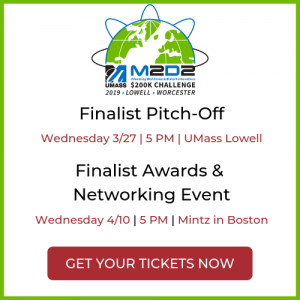 Can you share a "Eureka!" moment—a breakthrough in the development of your idea?

This happened in a discussion over coffee with my son, who is a mechanical engineer. I was explaining how I wanted to fill the left-atrial appendage (LAA) with a polymer, but not being a polymer engineer myself, I wasn't sure where to start.
His idea was simple: try filling the appendage with a tampon. We cut one in half and placed it into a delivery tube. Using a bench top water bath and 3D-printed model of the heart, we placed the tampon into the LAA.
It absorbed the water and expanded perfectly.
The success of the experiment told us this could be done. We just needed to replace the tampon with an implantable, long-term biocompatible version we could use in our product. The polymer is the anchor to the integrative platform product approach.
If you win, what's next?
If we win, we're looking forward to continuing with the polymer development aspects.
About CardioCorX
CardioCorX is committed to transforming the lives of millions of patients affected by atrial fibrillation and heart failure by providing Physicians with a unique-to-market integrative platform product that electrically isolates the Left-Atrial Appendage (LAA), eliminating the arrhythmogenic sources coming from the LAA, preventing blood clots/thrombus from forming in the LAA, and managing the patient after the procedure using the patients own left atrial pressure (LAP), heart rate (HR), body temperature BT) and electrocardiograms (ECG).
You're invited to meet ALL 21 finalists in person at the two upcoming events that will conclude the Challenge:
Challenge Pitch-Off—Wednesday, March 27 at 5:00 pm, University Crossing, 220 Pawtucket St., Lowell
Finalist Awards & Networking Event—Wednesday, April 10 at 5:00 pm, Mintz, 1 Financial Center, Boston
For more information and tickets, visit https://www.eventbrite.com/e/2019-m2d2-200k-challenge-finalist-showcase-pitch-off-events-tickets-56587606053